The North Face Mountain Athletics Collection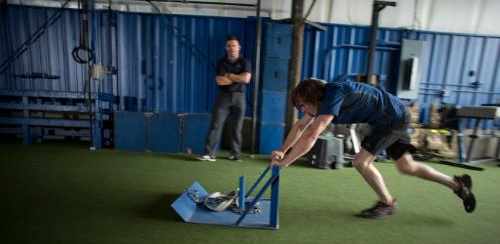 The North Face launched Monday a digital training platform in tandem with its new Mountain Athletics training apparel and footwear collection.
The Mountain Athletics Collection, which is now available at retail stores and online, offers the durability and full range of motion necessary for intense functional training exercises.
According to the company, the Mountain Athletics Training Program helps everyday athletes and weekend warriors alike establish a goal within three sports: running, climbing and skiing.
Based on a six-week timeline, athletes get a playlist of instructional videos led by The North Face Athlete Team members along with a downloadable training plan that will help them accomplish their outdoor goals.
The North Face partnered with Mountain Athlete gym in Jackson, WY to inform product development for the Mountain Athletics line of apparel and footwear, and to build the personalized sport-specific online training programs.
Mountain Athlete is also an official facility that helps advise members of The North Face Global Athlete team on how best to train and prepare for their expeditions and competitions.
The North Face will also debut an original Train Smarter web series that will document the journey of four weekend warrior athletes in pursuit of personal goals through the help of Mountain Athletics and The North Face athletes.
The series will feature ski mountaineer Kit DesLauriers training a former ski-bum turned nine-to-fiver who hopes to ski a peak in the Cathedral Range of Grand Teton National Park; ultrarunner Dean Karnazes mentoring a marathon runner preparing for his first 50-mile race; and rock climber Cedar Wright preparing a couple of climbing buddies for a first ascent in Yosemite Valley.
The North Face, a division of VF Outdoor, Inc., was founded in 1966. Headquartered in Alameda, California, the company offers technically advanced products to accomplished climbers, mountaineers, snowsport athletes, endurance athletes, and explorers.