Toyota Hybrid Vehicles at Atlanta Auto Show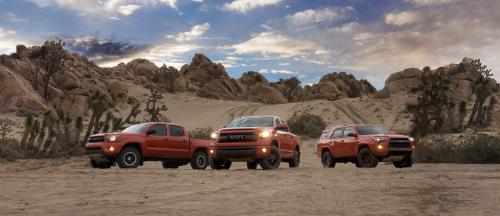 Toyota is debuting its all-new 2015 TRD Pro Series truck and SUV lineup at this year's Atlanta International Auto Show, from March 26-31.
The leading automaker also is bringing its hybrid family of vehicles to its 20,000 square-foot booth at Georgia's indoor auto show.
The 2015 Toyota Tundra, Tacoma and 4Runner will get even more aggressive with these new off-road packages designed by the experts at Toyota Racing Development (TRD), says the company.
[ Also Read: Nissan Launches Digital Platform for LEAF Owners ]
Atlanta is the first show in the Southeast, and only the third show in the world, where Toyota is displaying the TRD Pro Series lineup.
Show-goers will also explore nine Toyota vehicles with deep American roots, including the new 2014 Tundra and Corolla, as well as the Camry, Sienna, Sequoia, Venza, Avalon and Tacoma.
The automaker's direct investment in the United States has been more than $19.5 billion in 10 manufacturing and parts facilities.