Toyota Showcases Hybrid Portfolio at Atlanta Auto Show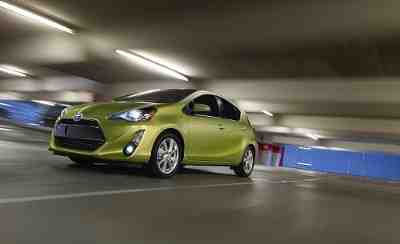 Toyota will showcase more than 30 Toyota and Scion models during the 33rd annual Atlanta International Auto Show March 25-29, at the Georgia World Congress Center.
As part of its expansive exhibit, Toyota will present its broad hybrid lineup, highlighted by enhancements to the 2015 Prius c and Prius v.
"Eighteen years after introducing the Prius – the first mass-marketed hybrid vehicle – Toyota is still proud to be the leader in sustainable mobility," said Craig Scott, national manager of the Advanced Technologies Group at Toyota Motor Sales.
Toyota will kick off the Atlanta show's media day on Wednesday with a panel of experts who will discuss the future of clean energy alternatives – including gasoline / electric hybrid, hydrogen fuel cells and plug-in hybrid powertrains.

With 20,000 square feet of exhibit space, Toyota will display its newest vehicles. This will include 2015 Camry, updated versions of the Sienna and Yaris, and the brand's extensive hybrid family of vehicles, including the Avalon, Camry and Highlander.
Meanwhile, the recently redesigned Scion tC and the Scion FR-S sports car will anchor the Scion space.
Show visitors can also get behind the wheel of Toyota's newest models at the Toyota Drive Center during all five days of the auto show. This free event will allow visitors to drive the Camry, Corolla, Prius and RAV4 on pre-selected routes around the Georgia World Congress Center.