Twin Giraffes Born at Wildlife Ranch
Twin Reticulated Giraffes, the only living set of twins and the second reported set of living twins born in the United States, were delivered at Natural Bridge Wildlife Ranch.
The first-born female calf, Wasswa, weighed 95 pounds and was 4.5 feet tall. The second-born male calf, Nakato, weighed 125 pounds and was 5.5 feet tall.
"Both Wasswa and Nakato are thriving," said Tiffany Soechting, Natural Bridge Wildlife Ranch marketing director and animal specialist caring for the newborn giraffes.
Male twin Nakato has been hand-reared since birth to ensure he receives adequate nutrition. Nakato is being re-introduced to his family through short, supervised visits to assure the mother does not perceive him as a threat.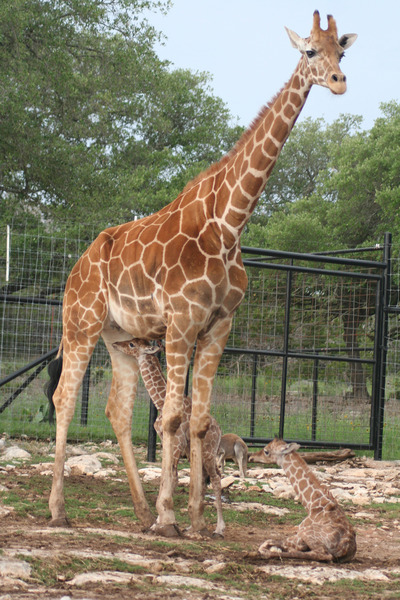 The twins are the mother's third birth. "As twin births are rare, we had a concern that the mother would not be able to produce enough milk for both offspring," said Dr. Patin. "We wanted to take prudent measures to guard the twins' health."
Opened in 1984, Natural Bridge Wildlife Ranch has become one of Texas' most recognized entertainment attractions.