U.S. Navy Honors Navy Federal Chairman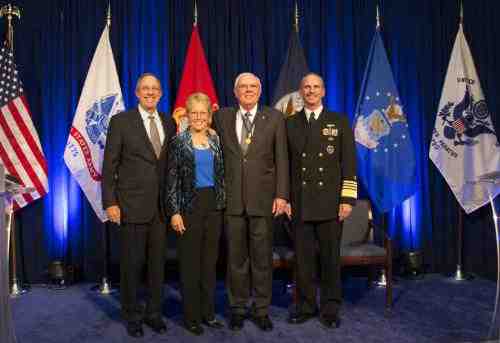 Navy Federal Credit Union honored its Chairman of the Board, VADM John Lockard, USN (Ret.) as the recipient of the Distinguished Public Service Award, the highest award the Department of the Navy (DON) presents to civilians.
The award presented by Chief of Naval Operations, Admiral Jonathan Greenert, comes to Adm. Lockard during his 20th year as Chairman for the credit union.
"I am truly humbled to receive such a prestigious award. My service as Chairman has always been about supporting servicemen and women and their families," Lockard said.
---
Related Stories:
Why Are the U.S. Military Veterans Committing Suicides?
America's Military Strategy in Iraq and Afghanistan: Documentary
---
The Distinguished Public Service award recognizes Chairman Lockard's dedication in meeting the unique financial needs of Navy and Marine Corps personnel, his leadership in expanding the credit union's membership and worldwide branch locations, and his commitment to the overall financial well being of all DON personnel and their families.
"Chairman Lockard is a man of vision and determination," said Cutler Dawson, president & CEO of Navy Federal Credit Union.
Lockard's contributions during his tenure as Chairman were provided entirely as a non-compensated volunteer—a testament to his commitment to military families, and members of Navy Federal Credit Union.
Navy Federal Credit Union is stated to be the world's largest credit union with $60 billion in assets, 5 million members, 253 branches, and a workforce of over 12,000 employees worldwide. The credit union serves all Department of Defense and Coast Guard Active Duty, civilian, and contractor personnel and their families.
In the picture above: From left to right: Navy Federal President & CEO, Cutler Dawson; Peggy Lockard; Chairman, John A. Lockard and Chief of Naval Operations, Adm. Jonathan W. Greenert