Vintage-Dated Bourbon Set to Hit Shelves
The 2012 expression of Old Forester Birthday Bourbon has been released in honor of George Garvin Brown, the founder of Louisville-based Brown-Forman and Old Forester, stated to be America's First Bottled Bourbon.
Every year in September, Old Forester releases an expression of its bourbon to commemorate Brown's birthday and this year marks the 11th limited-edition release.
"This year's vintage release of Old Forester is crafted from an 82 barrel batch, selected from a single day of production. That day's mash bill had 2% extra malt added to the fermenter resulting in the creation of a more nutty spirit," said Chris Morris, Brown-Forman Master Distiller.
"Once barreled the bourbon was ricked on the fourth floor in warehouses H and I where it experienced a balanced maturation environment. There the angels' share resulted in low barrel yields and therefore intense barrel flavor concentration."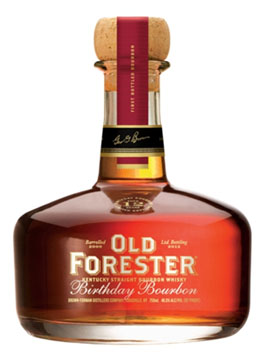 Handcrafted by Master Distiller Chris Morris, Old Forester Birthday Bourbon is vintage-dated – offering a one-of-a-kind character and flavor profile that will never be replicated. Its decanter style glass bottle is a throwback to the late 1800's when Old Forester was first produced.
"The 2012 Birthday Bourbon expression is full of ripe fruit character with oak sweetness, warming spices and almond nuttiness," said Morris. "A rich aroma and a long, warm finish make this yet another must-have release."
Old Forester Birthday Bourbon, a Brown-Forman product, has a suggested retail price of $49.99 and is sold at most liquor stores. The 2012 edition of Birthday Bourbon is bottled at 97 proof.
George Garvin Brown was the founder of Old Forester Bourbon Whisky and Brown-Forman Corporation.
Brown-Forman Corporation (NYSE: BF-B), Louisville, Kentucky, is a diversified producer and marketer of alcohol brands, including Jack Daniel's, Southern Comfort, Finlandia Vodka, Tequila Herradura, el Jimador Tequila, Canadian Mist, Woodford Reserve, and Korbel California Champagnes.
Love life. Sip responsibly.