Warner Bros. Hosts One Million Paw March
Cesar Millan, Scooby-Doo and Warner Bros. Consumer Products took over the National Mall for the Second Annual National Family Pack Walk on Saturday, Sept. 29, in Washington, D.C.
Pack leaders, Cesar Millan and Scooby-Doo, accompanied by an estimated ten thousand friends and supporters, gathered at the National Mall for the "One Million Paw March."
Dog lovers around the country also joined the movement, which united pack families in a series of community Pack Walks, led by North Shore Animal League America shelter partners and Mutt-i-grees Curriculum partner schools, occurred during the weeks leading up to the National Family Pack Walk day event.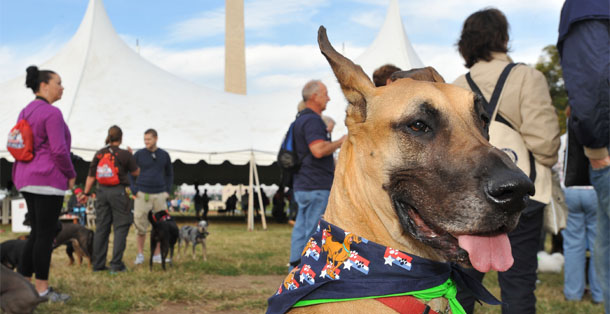 The Pack Walk movement benefits the Cesar Millan Foundation's cause of promoting animal welfare by supporting the rescue, rehabilitation and re-homing of abused and abandoned dogs and by establishing community humane education programs, including the Mutt-i-grees Curriculum.
"The Pack Walk supports a mission that is close to my and Scooby-Doo's heart – that is the rehabilitation and adoption of unwanted and abandoned dogs," said Cesar Millan. "With America's favorite canine Scooby-Doo as my partner, we will work to ensure dogs everywhere have the best quality of life."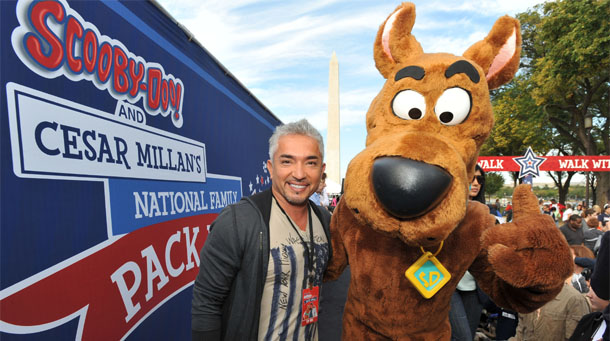 Families loved the 55-ft Scooby-Doo themed balloon floating over the National Mall, interacting with Scooby-Doo and the engaging games at the Mystery Machine and many other kid-friendly activities and entertainment.
Warner Bros. Consumer Products, a Warner Bros. Entertainment Company, is one of the leading licensing and retail merchandising organizations in the world.