Warren Buffett's 26 Secrets to Success
Warren Buffett says that at the heart of any wealth-building system there are certain core beliefs, not just about finance, but also about business, work, morality, responsibility to oneself, family, and society, and about living a decent life.
If we can learn that approach, and better yet, teach it to our children, can we raise the next generation of Warren Buffetts?
Secret Millionaires Club: Warren Buffett's 26 Secrets to Success in the Business of Life (Wiley; August 2013), by Andy and Amy Heyward, with the collaboration of Buffett himself, is a new book offering expert advice.
The book offers lessons on personal finance Warren Buffett has learned over the course of his career and Buffett's personal reflections on money, life, business, ethics, and more.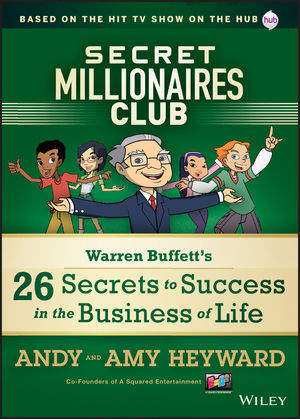 Written in conjunction with the television series, Secret Millionaires Club, and with Warren Buffett's support and input, this book makes Buffett's financial philosophy and homespun life lessons available to everyone outside his "Secret Club."
The book authors Andy and Amy Heyward are Co-CEOs of A Squared Entertainment LLC (A2), a full-service brand entertainment company.
A Squared is currently producing the Secret Millionaires Club with Warren Buffett, a television series designed to teach financial literacy.