When Zombies Attack a Slot Game
Aristocrat has unleashed a giant horde of zombies in its new The Walking Dead Slot Game, based on AMC's monster hit TV show The Walking Dead.
The Walking Dead Slot Game is invading casinos from coast to coast across North America.
Aristocrat's The Walking Dead Slot Game grabs players and puts them right in the middle of a post-apocalyptic world with a chance to win a grand jackpot.
"The Walking Dead Slot Game is the perfect marriage between TV's leading drama and the gaming industry's leading developer," said Theresa Beyer, AMC's VP of Promotions and Activation.
"The show keeps viewers on the edge of their seats, and Aristocrat now delivers that same experience for gaming fans."
The game is housed in Aristocrat's VERVEhd cabinet and is packed with video clips and images from the show, exciting features, and an abundance of bonus opportunities.
The experience is heightened by Aristocrat's surround sound iChair for an engrossing game that challenges players to win the fight for survival.
Based on the comic book series written by Robert Kirkman and published by Image Comics, The Walking Dead tells the story of the months that follow after a zombie apocalypse.
The series has earned two Emmy Awards for Outstanding Special Effects Makeup, among other accolades. The Walking Dead will return for the second half of its fourth season at 9pm on Sunday, Feb. 9, followed by a new episode of Talking Dead at 10 pm.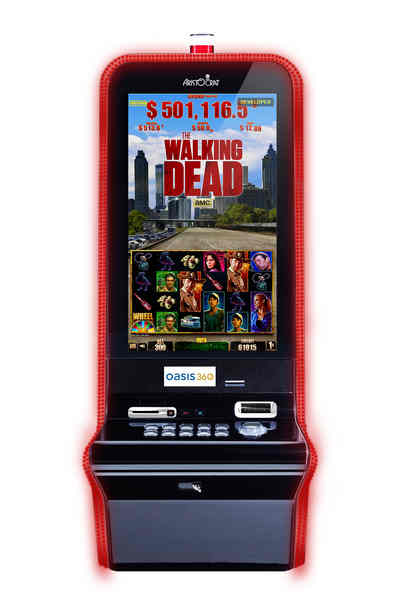 Players can find where to play the game by visiting www.aristocratplayingdead.com.
Aristocrat Technologies Inc. is a subsidiary of Aristocrat Leisure Limited (ASX: ALL), a leading global provider of land-based and online gaming solutions.