WWE Goes Pink with Susan G. Komen
Integrated media organization WWE (NYSE: WWE) and Susan G. Komen are expanding their joint "Rise Above Cancer" campaign to include all WWE Superstars and Divas wearing pink ring gear starting Monday on Monday Night Raw.
The campaign will continue throughout National Breast Cancer Awareness month with WWE Superstars and Divas wearing customized "Rise Above Cancer" t-shirts to help raise awareness and funds for Komen.
[
Also Read
:
Smartphone App for Breast Cancer Patients
]
WWE will donate to Komen 20 percent of the retail sales price of all specialty "Rise Above Cancer" merchandise sold Monday through Dec. 31 on WWEShop.com and at WWE live events.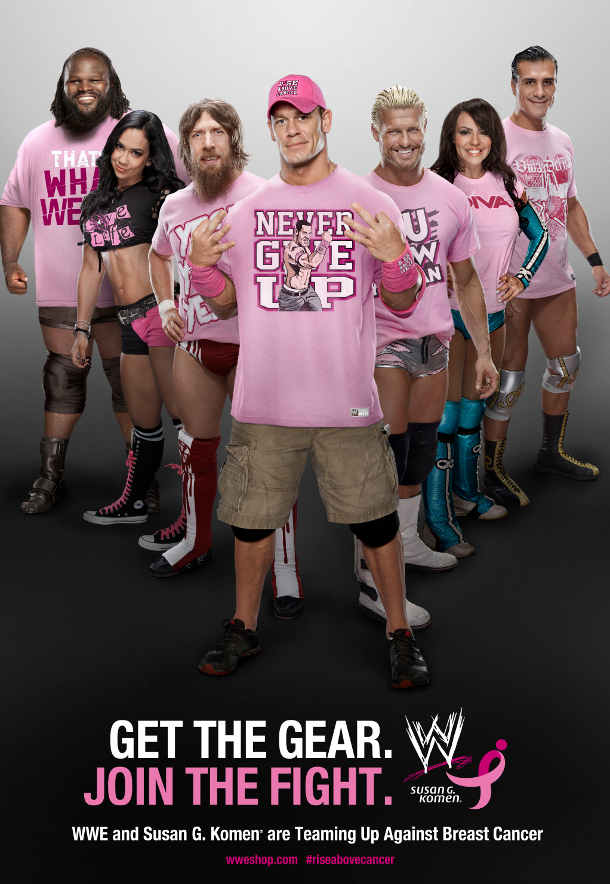 WWE will also offer co-branded bracelets and a "Rise Above Cancer" hat, headband and wristband set, inspired by WWE Superstar John Cena, who conceived of the partnership last year and continues to be an avid spokesman for Komen.
To support Komen's mission, WWE will utilize all its assets, including TV and pay-per-view broadcasts, live events, PSAs, in-arena, digital and social media to generate awareness and encourage fans to get involved.
Throughout the month, the announcer table, entrance ramp and ring skirts will be co-branded and the middle ring rope turned pink to promote the fight against breast cancer.
Susan G. Komen is a leading nonprofit funder of breast cancer research, and funds community outreach programs, public advocacy and global programs.