Zero Motorcycles for Los Angeles Police Department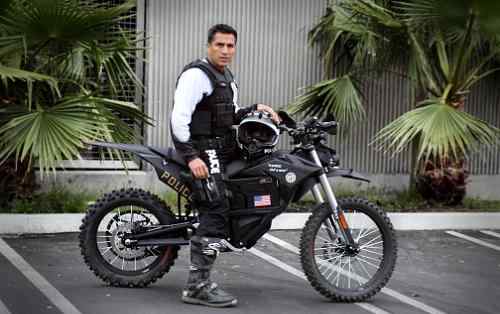 Electric motorcycles company Zero Motorcycles announced today that the Los Angeles Police Department purchased the new Zero MMX police / military motorcycle to add to the department's patrol fleet.
Powered by the 100% electric Z-Force motor, the Zero MMX was developed to meet the specific requirements of military, law enforcement and security agencies, says the company.
After extensive testing, the L.A.P.D. chose Zero Motorcycles for their stealth, low cost of operation, maintenance-free powertrain, and minimal environmental impact.
[ Also Read: Zero-Emissions All-Electric Bus Launches in Rio de Janeiro ]
"There are major benefits to incorporating these environmentally friendly motorcycles. It costs less than 50 cents to charge compared to using gallons of gas, maintenance is simple, and the community appreciates how quiet they are," reports officer Steve Carbajal of the L.A.P.D. Off-Road Unit. "Most importantly, our officers have an added tactical advantage while on patrol."
"We continue to grow the support of law enforcement worldwide and are thrilled that the L.A.P.D. will be using our motorcycles," said John Lloyd, VP of Global Sales for Zero Motorcycles.
[ Also Read: EA Delivers Cops and Criminals Warfare in Battlefield Hardline ]
Zero's police motorcycles are fully electric and designed exclusively for police and security departments as a cost effective means to patrol a wide variety of terrain and excel in areas with noise and pollution limitations, including indoors.
They can be customized with pursuit emergency lighting and sirens, safety components, and plenty of functional storage options to carry gear, patrol items, and emergency medical equipment. Motorcycles are currently available for a three-day evaluation program.
In the picture above: Sgt. Ron Alberca of the Los Angeles Police Department aboard the Zero MMX electric motorcycle. Photo courtesy: Zero Motorcycles