Acura Celebrates Sales of 2 Million Cars in the U.S.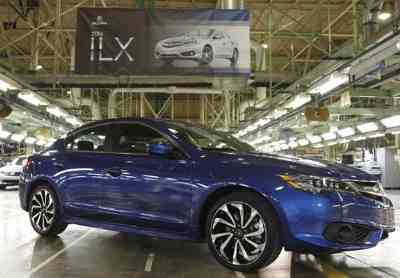 The Acura brand celebrates sales in the U.S. of the 2 millionth North American-made Acura vehicle.
The company has achieved this milestone 20 years after Acura production began in the U.S., as the first new 2016 Acura ILX sports sedan rolled off the assembly line at the Marysville Auto Plant in Ohio.
Production of the Acura ILX, the gateway to the Acura sedan lineup, began in 2012 at the company's Greensburg, Indiana plant. It now will be produced alongside Acura's highest volume luxury sedan, the Acura TLX, which launched in August of last year.

The Marysville Auto Plant has made major investments to further advance Acura quality with the launch of the TLX sedan and will continue to advance its levels of quality for Acura customers with the launch of the new ILX.
Starting this fall, Acura will begin production of the next-generation Acura NSX supercar at the new Performance Manufacturing Center (PMC), located adjacent to the Marysville Auto Plant and the nearby development center of Honda R&D Americas, Inc., which led the development of the NSX.
Acura offers a full line of luxury vehicles through a network of approximately 270 U.S. Acura dealers.