Rural Resistance: Protests by Farmers in India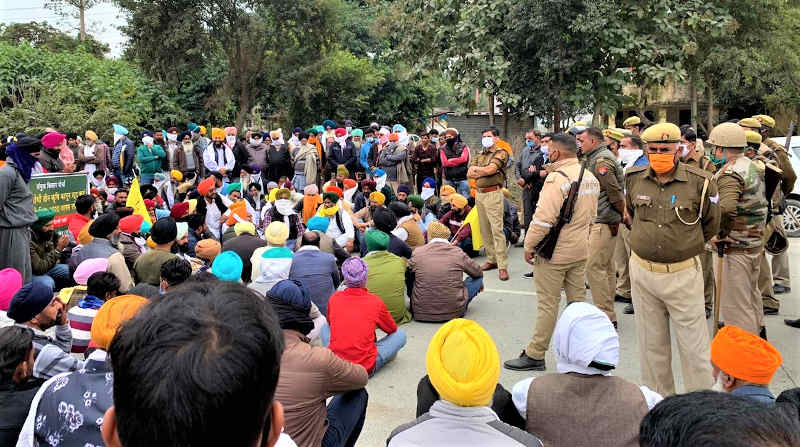 Raman Media Network (RMN) Company – which is working in diversified content creation, management, and distribution businesses on a global scale – has launched "Rural Resistance: Protests by Farmers" editorial section.
This section under the RMN news service has been created to cover the agricultural reforms and ongoing farmers' protests in India. It will carry news, views, and related developments and invites farmers as well as farming experts to share their views which will be published on the site.
Main Issues
– Hundreds of thousands of Indian farmers are protesting against the new farm laws introduced by the government headed by Prime Minister (PM) Narendra Modi.
– Although farmers across the nation oppose Modi government's decision, the epicenter of the movement is Punjab which contributes the lion's share to the Indian agriculture sector.
– Farmers fear that these laws will deprive them of their farming rights and they will lose their lands which will be grabbed by Modi's capitalist friends. They expect the government to withdraw these laws.
– Modi says that the Parliament of India has given a legal form to the agricultural reforms after a lot of deliberation. Protesters argue that Modi is autocratically using his party's majority in Parliament to impose anti-people laws.
– The Modi government has refused to withdraw the contentious farm laws and Modi has accused the opposition parties of misleading farmers who are protesting against these laws.
– After holding protest meetings in their cities for a couple of months, the farmers from various states – mainly from Punjab – came to New Delhi on November 27 to hold a joint demonstration and continue their protest in the national capital for an indefinite period.
– After blocking their entry with barbed wires, teargas, and water cannons, the government through Delhi Police reluctantly allowed farmers to enter Delhi and protest near the outskirts of Delhi in the Burari area.
– But farmers have decided not to assemble in the fenced Burari ground and instead decided to camp at Delhi borders. They fear it can be a government's ploy to push all the protesting farmers at one location and detain them there.
– Now, there is a possibility that the Modi government will unleash police brutality on protesting farmers and may use draconian laws including sedition and Unlawful Activities (Prevention) Act or UAPA against some farmers and their leaders.
---
READ AND DOWNLOAD
F A C T (Farm And Crop Times)

News Magazine on Global Farming and Agricultural Affairs
Click
here
to download.
[ Download and Read: Proposal to Promote Organic Farming ]
---
Rural Resistance: Protests by Farmers
Click the following links to read related articles.
[ Also Read: News on Punjab Legislative Assembly Election 2022 ]
News and Events
[ Why Protesting Farmers Must Explore Political Options to Win the Battle ]
[ Opposition Leaders Write to President on Farm Laws and Pegasus Spyware ]
[ From Twitter to Tractor: Rahul Gandhi Drives Tractor to Highlight Farmers' Distress in India ]
[ Angry Indian Farmers to Protest at Parliament ]
[ Farmers Committing Crimes Under the Garb of Agitation: Haryana CM ]
[ Farmers Extend Scope of Agitation to Save Democracy in India ]
[ Protesting Farmers Posing Covid-19 Risk: NHRC ]
[ Punjab Farmers Holding Unjustified Protests ]
[ Warning: Punjab Farm Protesters May Spread Coronavirus in India ]
[ Protesting Farmers Refuse to Get Tested for Covid-19 ]
[ Protesting Farmers Defy Covid-19 Restrictions in Delhi ]
[ Protesting Farmers Allege Brutality by Delhi Police ]
[ Farm Leaders Invite Youth Leader Lakha Sidhana to Strengthen Agitation ]
[ Youth Must Form a New Team to Lead Farm Agitation: Punjabi Video ]
[ End of Farm Agitation: Farmers Leaving Protest Sites in Delhi ]
[ U.S. Senators Demand Protection of Farmers' Rights in India ]
[ Protesting Indian Farmers Appeal to UN Human Rights Council ]
[ U.S. Farmers Union Stands in Solidarity with Indian Farmers ]
[ Youth Leader Lakha Sidhana Reinvigorates Dwindling Farmers' Protest ]
[ Justin Trudeau Reminds PM Modi of Democratic Principles to Deal with Protests ]
[ Indian Government Must Stop Crushing Farmers' Protests: Amnesty ]
[ India Must Protect Rights of Farmers: UN Human Rights Office ]
[ Environmental Activist Greta Thunberg Faces Police Action in India ]
[ Justin Trudeau Asked to Condemn Govt Violence on Indian Farmers ]
[ Protesting Farmers Face Gujarat Model of Violence in Delhi ]
[ Repeal Farm Laws: Opposition Leaders to Boycott President Address in Parliament ]
[ Police Case Filed Against Farm Leaders. BJP Blamed for Delhi Violence ]
[ Civil Unrest in India: Police Use Force to Stop Protesters ]
[ Protesting Farmers Fear Gujarat Model of Violence in Delhi ]
[ Modi Govt's Farm Laws Will Murder Farming: Congress ]
[ Govt Targets Actor Deep Sidhu and Farm Leaders to Derail Farm Protests ]
[ Farm Feud: Supreme Court Jumps in to Rescue Modi Govt ]
[ British MPs Raise Concern Over Police Brutality on Indian Farmers ]
[ Petition to PM Modi Urges to Abolish Farm Laws ]
[ Modi Govt Nothing to Lose in Conflict with Angry Farmers ]
[ Sonia Gandhi to PM Modi: Repeal Black Farm Laws ]
[ ਦਿੱਲੀ ਵਿੱਚ ਕਿਸਾਨ ਅੰਦੋਲਨ – ਸਵੋਟ ਵਿਸ਼ਲੇਸ਼ਣ | ਰਾਕੇਸ਼ ਰਮਨ ਦੁਆਰਾ | WATCH VIDEO ]
[ Private Investment in Agriculture Will Help Farmers: PM Modi ]
[ Protesting Farmers Defeat Coronavirus in India ]
[ Farm Agitation: Rahul Gandhi Says Modi Stealing Farmers' Money ]
[ Supreme Court Allows Farmers to Hold Protests in Delhi ]
[ Putting Farmers First: How Modi Govt Plans to Help Indian Farmers ]
[ Farm Protests Increase Covid Risk in Delhi ]
[ Farmers to Modi Govt: Cancel Farm Laws or Remove Protesters with Force ]
[ Farm Laws: Farmers Must Not Hold Closed-Door Meetings with Modi Govt ]
[ Farmers Must Not Reduce Their Agitation to Just MSP and Farm Laws ]
[ Protesting Farmers Debunk Modi Govt's Covid Pretext to Enter Delhi ]
[ Modi Govt Unleashes Police Brutality on Protesting Farmers ]
[ Police to Stop Protesting Farmers from Entering Covid-Infected Delhi ]
[ Indian Farmers' Struggle Against Farm Laws Going Haywire ]
[ Modi Govt Manipulates EVMs to Win Elections: Akal Takht Chief ]
[ Punjabi Artists Harbhajan Mann, Sidhu Moosewala, Deep Sidhu Lead Farmers' Protests ]
[ Protesting Punjab Farmers Succumb, Lift Train Blockade ]
[ Modi Govt Uses Coronavirus Excuse to Stop Farmers' Protest in Delhi ]
[ Punjab CM Amarinder Singh Holds Protest in Delhi to Oppose Farm Laws ]
[ Protesting Punjab Farmers Feel Cheated, Meeting with Modi Govt Fails ]
[ Punjab Farmer Unions Threaten to Protest Against Congress Leaders ]
[ Punjab CM to BJP Chief: Allow Trains to Supply Goods to Soldiers ]
[ Opposition Leaders Are Misleading Protesting Farmers: PM Modi ]
[ Punjab Introduces New Bills to Neutralize Farm Laws of Modi Govt ]
[ PM Modi Wants to Destroy Farming Sector: Rahul Gandhi in Punjab ]
---
DISCLOSURE: I am an independent journalist and do not favor or support any Indian politician or political party. I strongly believe that all political parties in India are full of dishonest politicians who are hell-bent to further destroy the country which exists merely as an underdeveloped piece of land on the face of the earth.
I am managing this editorial section alone without any financial or other support from any person or party. 
Contact
Rakesh Raman [ Please click here to see the full profile. ]
463, DPS Apts., Plot No. 16, Sector 4, Dwarka, Phase I
New Delhi 110 078, INDIA
Mobile: 9810319059 | Contact by Email
This section is being managed by Rakesh Raman, who is a national award-winning journalist and social activist. He is the founder of a humanitarian organization RMN Foundation which is working in diverse areas to help the disadvantaged and distressed people in the society.
Support RMN News Service for Independent Fearless Journalism
In today's media world controlled by corporates and politicians, it is extremely difficult for independent editorial voices to survive. Raman Media Network (RMN) News Service has been maintaining editorial freedom and offering objective content for the past more than 10 years despite enormous pressures and extreme threats. In order to serve you fearlessly in this cut-throat world, RMN News Service urges you to support us financially with your donations. You may please click here and choose the amount that you want to donate. Thank You. Rakesh Raman, Editor, RMN News Service.