Ash Carter to Troops in Kandahar: You Are My Priority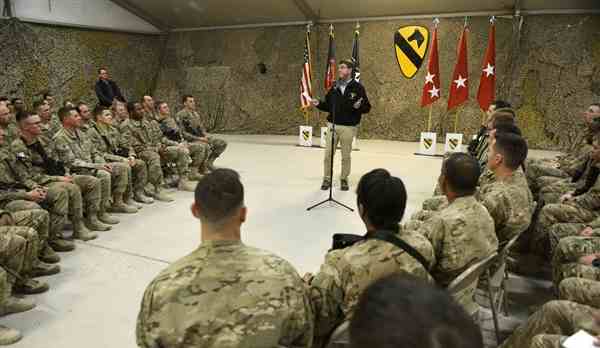 As part of his first official trip to Afghanistan as the U.S. defense secretary, Ash Carter made a stop in Kandahar on Sunday to thank U.S. troops there for their dedication to the mission and the progress they and their NATO and Afghan allies have achieved.
His visit was to the Train Advise and Assist Command South, or TAAC South, formerly Regional Command South. The command's area of responsibility includes the provinces of Kandahar, Uruzgan, Zabul and Daykundi.
The U.S. 1st Cavalry Division is what is called the TAAC South framework element, and contributing countries include Romania, Slovakia, the United Kingdom, Belgium, Australia, Jordan and Georgia.
[ President Obama Welcomes Ash Carter as Defense Secretary ]
At TAAC South's Kandahar Airfield headquarters, Carter told the troops that they are his priority.
"You're what I wake up to every morning" he said. "I never forget for one minute that you're here and what you're doing, the sacrifice that being here entails and the risk that it entails for you."
He thanked the troops personally and on behalf of the U.S. Defense Department and the nation.
While in Afghanistan, the secretary will assess progress being made in the country so he can determine future actions and make recommendations to President Barack Obama, he told service members.
"The train, advise and assist mission is becoming the heart of the effort in Afghanistan that will make permanent the success that U.S. and coalition troops have sacrificed so much for," Carter said.