The Jungle Book Toys Launch Globally
The Jungle Book CGI animated series has over 100 licensees across a variety of industries worldwide.
Following the success of the TV series, The Jungle Book Toy Line, consisting of action figures, play sets and walkie talkies; outdoor adventure, electronic and summer toys has now launched in key global territories.
SMC Entertainment Group, Inc. (SMC), Sun-Mate Corporation and DQ Entertainment International, producer and global rights owner of 'The Jungle Book' TV series, have secured partners for the launch.
Jungle Book toys will be carried at Toys"R"Us in Australia, the Middle East, Israel, South Africa and the US and by other key retailers in these territories and across Scandinavia. The range will also be available from online retailers, including Amazon.com.
The launch will be supported by promotions and giveaways in selected stores. Mowgli, Baloo and the rest of the Jungle Crew will come to life with a 'Quick Service Restaurant' (QSR) Promotion by Burger King across 14,000 restaurants worldwide. Children will receive one of six great Jungle Book toys in each Kids Meal!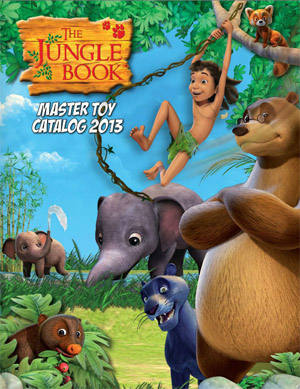 The first season of The Jungle Book was broadcast on top-tier channels in over 165 countries worldwide. More recently, The Jungle Book is all set to gather new fans throughout Latin America with broadcast on Televisa, Globosat and Canal Encuentro.
The Jungle Book Christmas Special, a CGI TV feature will also be available by December 2013 for Christmas viewing.