India Plans to Implement GST from April 2017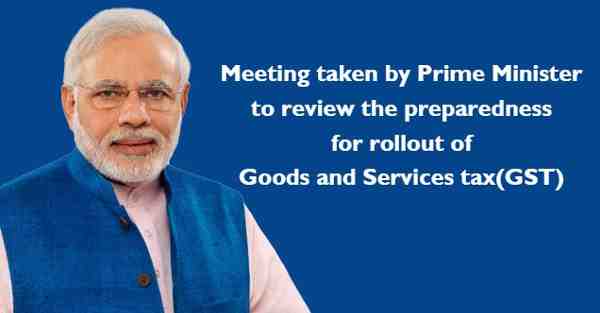 India Plans to Implement GST from April 2017
The Prime Minister of India Narendra Modi held a meeting Wednesday to review the preparedness for rollout for Goods and Services Tax (GST).
The meeting was attended by Union Finance Minister, both the Ministers of State for Finance, senior officers from the Prime Ministers office and Finance Ministry.
GST (वस्तु एवं सेवा कर) aims to implement a national value-added tax in India.
Calling GST as the best example of cooperative federalism, earlier the Prime Minister had said that this reform will promote Make in India project, help exports and thus boost employment while providing enhanced revenue.
[ Request for Help to Open Free School for Poor Children ]
In order to ensure that there is no slippage on date of implementation of GST from 1st April, 2017, the Prime Minister reviewed the progress made on various steps needed for the rollout of GST.
The steps include preparation of Model GST laws and rules, establishment of IT infrastructure for both Centre and States, training of officers of Central and State Governments and outreach for awareness of trade and industry.
Modi directed that all steps must be completed much before 1st April, 2017. He observed that GST Council would need to have intensive meetings to be able to make timely recommendations relating to its mandate provided in Article 279A including making recommendations relating to Model GST laws, GST rates, goods and services that may be subjected to or exempted from GST.