Cartoon Network Announces Hall of Game Awards
At their third annual Hall of Game Awards on Saturday night, Cartoon Network counted the votes from the fans and awarded sports superstars and icons with the coveted GAME Award during a fun-filled evening which also included a special tribute to the stars of the 2012 Summer Olympic Games and Super Bowl champions the Baltimore Ravens.
Hosted by basketball legend Shaquille O'Neal and the executive producer of Cartoon Network's Incredible Crew Nick Cannon, the Hall of Game Awards was a high-energy evening that included a performance by the U.K.'s pop band, The Wanted ("All Time Low" and "Glad You Came") to an all-star audience.
Actress, Jessica Alba (Fantastic Four) presented the "2012 SI KIDS SPORTSKIDS OF THE YEAR" award to Cayden and Conner Long, who have inspired people with their story of brotherly love as they compete across the country as a team in multiple races and triathlons even though Cayden was born with cerebral palsy.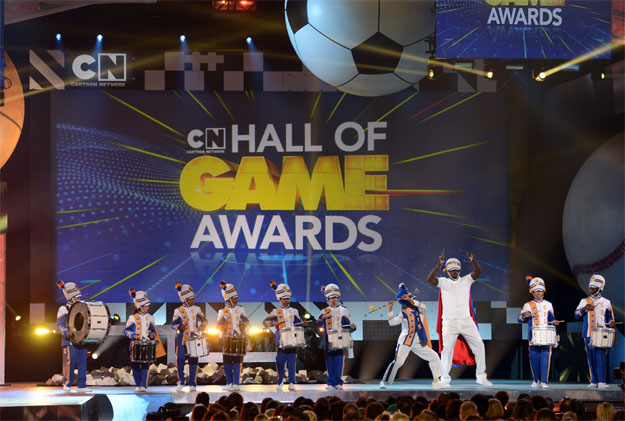 Cartoon Network Awards
The top GAME awards of the night went to "HE'S GOT GAME" winner LeBron James (Miami Heat) and "SHE'S GOT GAME" winner Gabby Douglas (Olympic gold medalist).
Victor Cruz (New York Giants) and hosts Shaquille O'Neal and Nick Cannon had a "Gangnam Style" dance off with "MOST AWESOME MASCOT" nominees before awarding Rocky (Denver Nuggets Mascot) for his smooth moves.
The Olympic gold medal-winning U.S. women's gymnastics team proved to be golden again taking home the coveted "WE GOT GAME" team award.
Other notable winners include 2013 Super Bowl Champions, Jacoby Jones, Bryant McKinnie and Jimmy Smith of the Baltimore Ravens being honored by Snoop Dogg aka Snoop Lion and Olympic gold medal-winning swimmer, Ryan Lochte taking home the award for "THAT'S HOW I ROLL."
The night included performances by top freerunning group Team Tempest, competitive jump rope squad the Summerland Skippers, world-renowned percussion crew the Street Drum Corps and an epic dance number featuring hosts Shaquille O'Neal and Nick Cannon along with a slew of professional sports mascots.
Cartoon Network is a leading U.S. television network among boys 6-11.