Greek Volunteers Win Nansen Refugee Award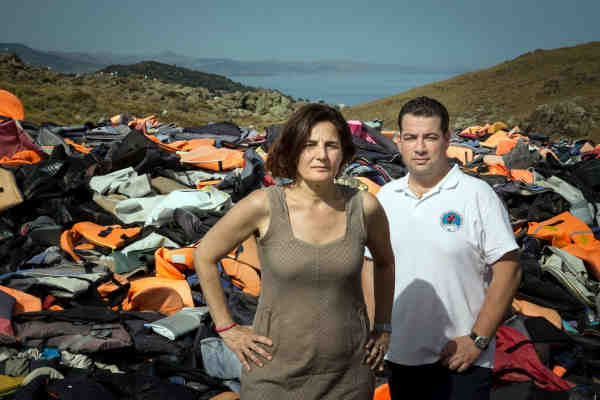 Konstantinos Mitragas on behalf of the Hellenic Rescue Team (HRT) and Efi Latsoudi, the human rights activist behind "PIKPA village" on the Greek island of Lesvos, are joint winners of UNHCR's Nansen Refugee Award 2016.
The award recognizes their voluntary efforts to aid refugees arriving in Greece during 2015, and reflects the spirit of volunteerism across Europe at the height of the refugee and migrant emergency.
Since 2007, Greece has been challenged by the arrival of a large number of refugees and migrants, but in 2015 sea arrivals escalated to an emergency.
On the island of Lesvos alone, numbers topped 500,000 last year. In October 2015, arrivals peaked at more than 10,000 per day, as conflicts in Syria, Afghanistan and Iraq continued to uproot people from their homes.
[ Free School to Provide Modern Education to Poor Children ]
Other Greek islands, including Chios, Samos, Leros and Kos also hosted refugees as thousands more risked the freezing waters, fake lifejackets and surging storms in order to find safety.
For many refugees, the heroic humanitarian efforts of Greek volunteers in 2015 went well beyond pulling survivors from the seas, they helped them to take the first steps towards a normal life.
'Safe haven' for refugees in Lesvos – joint winner Nansen Refugee Award 2016. Credit: UNHCR
During 2015 the HRT conducted round-the-clock operations to save refugees and migrants in distress at sea and Latsoudi showed compassion and care for the most vulnerable refugees arriving on the island of Lesvos through her work at PIKPA village.
UN High Commissioner for Refugees Filippo Grandi paid tribute to the efforts of the winner of the global humanitarian award.
"Hundreds of thousands of people fleeing conflict and persecution last year made the desperate bid to reach Europe in search of safety, many risking their lives in unseaworthy boats and dinghies, in a journey which all too often proved insurmountable," he said.