ISIS Terrorists Damage Cultural Heritage Sites in Iraq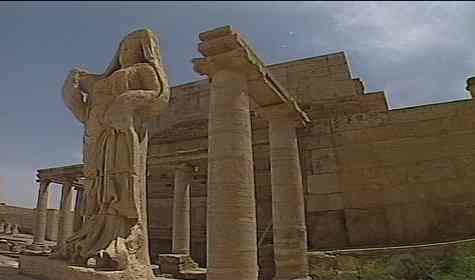 By Rakesh Raman
A day after demolishing the ancient Assyrian city Nimrud near Mosul in Iraq, the ISIS (Islamic State of Iraq and Syria) militants attacked Saturday the cultural heritage sites in Hatra.
Although ISIS had captured Hatra about four years ago in 2010, it had recently expressed its intentions to destroy ancient artifacts in Hatra, which is also a UNESCO World Heritage Site.
The terrorist organization has demolished the historical sites, as, according to it, they conflict with their religious views that oppose the preservation of such artificial objects.
This was also the presumable reason when Muslim extremists attacked the staff of a French magazine Charlie Hebdo (or Charlie Weekly) in January.
The magazine had published a caricature of Prophet Muhammad. It's believed that since Islam prohibits idol worship, the religion doesn't allow the depiction of Muhammad in any artificial form.
[ John Cantlie: ISIS Hostage or ISIS Spokesman? ]
UNESCO and Iraqi officials have confirmed that ISIS has started the demolition of Hatra sites on Saturday.
"The destruction of Hatra marks a turning point in the appalling strategy of cultural cleansing underway in Iraq," said the Director-General of UNESCO, Mrs. Irina Bokova. "This is a direct attack against the history of Islamic Arab cities, and it confirms the role of destruction of heritage in the propaganda of extremists groups."
"With this latest act of barbarism against Hatra, Daesh (another name for ISIS) shows the contempt in which it holds the history and heritage of Arab people," said Mrs. Bokova.
[ Also Read: How ISIS Deals with Sexual Deviance ]
According to UNESCO, Hatra withstood invasions by the Romans in A.D. 116 and 198 thanks to its high, thick walls reinforced by towers. The remains of the city, especially the temples where Hellenistic and Roman architectures blend with Eastern decorative features, attest to the greatness of its civilization.
Recently, the attacks against the culture of Iraq have seen a drastic escalation. Following the destruction of cultural items at the Mosul Museum and the bulldozing of the ancient Assyrian city of Nimrud, now ISIS has attacked the World Heritage property of Hatra.
Incidentally, Hatra was used in the opening scene of the 1973 horror film The Exorcist, a Warner Bros. movie directed by William Friedkin.
By Rakesh Raman, the managing editor of RMN Company
You also can read: More Articles by the RMN Editor, Rakesh Raman
This article is part of our RMN editorial section
Wars and Conflicts
that carries related news and views from all parts of the world.
Photo courtesy: UNESCO