Soha Ali Khan Honors India's Spelling Champ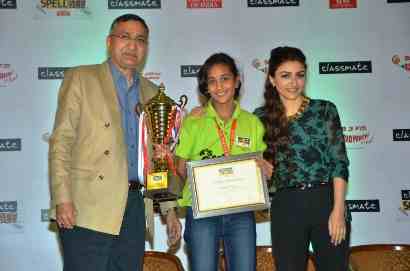 Bollywood actress Soha Ali Khan announced Tuesday Malavika Deepak of Std. 9 from Kendriya Vidyalaya Ottapalam, Palakkad, Kerala as the National Champion of India's spelling competition, Classmate Spell Bee Season 7. Mukund Choudhary of Std 9 from Krishna Public School, Raipur was the first runner up.
The theme for the contest this year was 'Every child is unique and so is every word'. The competition this year was conducted across India and engaged with more than 275,000 students across 800 schools in 30 cities by testing their mettle in English spellings.
[ RMN KidComm – Art of Communications for Kids ]
In the initial phase, an on-ground exercise in schools received participation. The top 15 spellers from each school then competed in the online city finals round.
The top performers from the city finals then competed in the Semi Final stage of the competition. From there only the top 16 students from across India went on to battle it out in the televised National Finals.
The National Finals of Classmate Spell Bee Season 7 saw the competition between top 16 spellers of India in the search for the National Spell Bee Champion.
[ Indian Government Says "No" to Christmas Day in Schools. Attacks Christianity ]
The National Finals will be telecast on The Discovery Channel, Discovery Kids and Discovery Tamil pan India.
The National Champion of Classmate Spell Bee Season 7 will win a grand prize of Rs. 200,000 apart from the opportunity to witness the Scripps National Spelling Bee 2014 with a parent in Washington D.C., U.S.A. in an all expenses paid trip.
The 4 semi finalists will win a cash prize of Rs. 50,000 each. The grand prize for the winner of Classmate Spell Bee and those for the semi-finalists have been specifically designed and sponsored by Classmate notebook brand.
[ Bollywood Actress Juhi Chawla Brand Ambassador for Jungle Magic ]
Air India, a member of the Star Alliance, is the official travel partner for Classmate Spell Bee Season 7 and will fly the National champion and a parent to witness the Scripps National Spelling Bee held at Washington D.C. in 2015.