No Nation Is Free of Human Rights Violations: Meenakshi Ganguly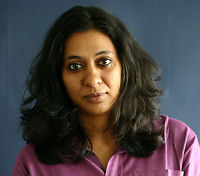 In today's complex world order replete with political and economic challenges, a vital subject like the human rights is increasingly being relegated to mere academic discussions. Governments and political outfits in all parts of the world are flouting the rights of their citizens in cold blood.
To understand the current status of human rights and the need to protect them for commoners, Raman Media Network (RMN) invited Meenakshi Ganguly, South Asia Director, Human Rights Watch – which is an independent, international organization that works to uphold human dignity and advance the cause of human rights for all – for a discussion.
Meenakshi sheds light on an array of issues related to human rights in an exclusive interview with Rakesh Raman, the managing editor of RMN.
Here's what she says:
1. Do you share the view that in the present world order, human rights abuses are equally flagrant in the democratic setups as they are in the state-controlled political systems?
No nation is free of human rights violations. Unfortunately, we often find that instead of ensuring accountability, many abusive actors appear to use wrongdoings by others to justify their own bad practices.
States have the responsibility of ensuring domestic protections and reform, and they should also speak out against violations by other states or non-state actors. Human rights protections are universal, and should be promoted on behalf of oppressed people.
We are seeing increasing reasons for concern. Islamist extremists are committing mass atrocities and threatening civilians throughout the Middle East and parts of Africa. A civilian plane was shot down over Ukraine. In Pakistan, 148 people, most of them school children, were brutally killed. The US has published a new report exposing the use of torture against terrorist suspects. In India, there is a worrying increase in communal tensions.
There is a tendency to abandon human rights when faced with challenges. This can only be counterproductive. Human rights violations exacerbate the sense of persecution and can lead to a cycle of violence. It is crucial that states promote rights, protect the freedom to criticize and comment, pay attention to dissidence to create space for citizen participation.
2. Of late, there have been multiple cases of human rights violations related to religious conversions, religious attacks, curtailing of LGBT rights, police high-handedness, and so on in India. Do you think the government mechanism has failed in protecting the human rights of citizens in India?
India has some good laws to ensure protection of fundamental freedoms and human rights. However, we repeatedly find that such laws are not properly enforced. India desperately needs reforms to its criminal justice system. The police in India are overworked, often suffer due to poor training, and are vulnerable to external pressures. At the same time, the government has failed to set up an effective mechanism to address complaints and hold the police and other security forces accountable when they commit abuses.
There are also a number of laws, most of them lingering from the abusive colonial rule, that are still misused. We have long called for the repeal of laws such as Section 124A of the Indian Penal Code, which is the law against sedition, or Section 377, which is used to criminalize consensual adult same sex relationships. We have recommended that the Armed Forces Special Powers Act be repealed and replaced with a law that also protects human rights.
The rise in communal tensions, often directly the result of political campaigns, can be particularly destructive because such situations, when left to fester, can explode into ugly violence where people are killed, women raped, children maimed, families displaced.
3. How do you rate the human rights safeguard status in India? Is it satisfactory, deficient, or pathetic?
India's judicial system has often upheld the protection of human rights. But it is important to end the culture of impunity and hold perpetrators accountable when they commit abuses. The National Human Rights Commission and other constitutional authorities like the commissions to protect Dalits, tribal groups, children, women and religious minorities need to be strengthened.
The government has also failed to act on their recommendations. Most state governments have yet to set up independent commissions. The government should ensure that appointments are made in a transparent manner selecting those most effective and enable them to do their jobs.
The media, NGOs and civil society groups can play a crucial role in safeguarding human rights. Social media can be effective as well. The government should do its utmost to promote freedom of expression and curb any attempt to silence dissent.
4. Minority communities have been feeling an increasing degree of persecution and fear in India for the past few months. Is this feeling for real or is it an avoidable perception?
Unfortunately, minorities will feel insecure if those who target them are protected by political patrons instead of being properly prosecuted. Communities from the north east have recently come under attack by vigilante groups in Delhi and Bangalore. In Bombay, we saw attacks on migrant workers from Uttar Pradesh and Bihar. Religious minorities have come under attack in repeated incidents of communal violence.
Vigilante groups that engage in such attacks often believe they are justified in violently promoting their political ideology. The perpetrators, in many of these cases, have not been properly identified and punished which leads minority groups to feel vulnerable and at risk of violent attacks.
5. The doctrine of human rights is increasingly assuming multidimensional proportions while the governments in different countries are constantly ignoring international human rights laws. What steps can be taken to penalize such governments in order to fully protect the rights of humans?
Governments are perfectly aware that they are accountable for upholding international human rights laws. That is why we see so often that abusive governments want to discredit and insult their critics. For instance, instead of properly investigating allegations of war crimes, the government of Sri Lanka chose not only to shut down critical media and intimidate human rights defenders, but some senior officials targeted the UN human rights chief, criticized an Indian chief minister, claimed wrongly that various critics were supporters of the Tamil Tigers— simply because they had called for justice.
6. What exactly is the role of Human Rights Watch (HRW) in India – particularly when the political and judicial systems ignore the findings of agencies like HRW?
Human Rights Watch monitors and reports on human rights violations and works on 90 countries including India. We always share our findings with the government. In many cases, we have found that the government has tried to address issues that we have raised, whether it is maternal mortality or police reform.
India also has a strong civil society that can support the government in ensuring change. Our primary concern on domestic issues is the failure to hold public officials to account when they fail to do their jobs or commit abuses.
We also hope that India, as an emerging power, will take a leadership role in promoting human rights elsewhere. For instance, it was very encouraging that India backed the UN Human Rights Council resolutions calling for accountability after the Sri Lanka war. Usually, however, we find it disappointing that India chooses to abstain on country-specific resolutions aimed to end human suffering in difficult parts of the world, whether in Syria or North Korea.
7. Is HRW taking some additional steps to increase its influence over the constantly crumbling human rights protection system in India in order to protect the human rights?
We will continue to draw attention to the failures in implementing policies to protect human rights.
Meenakshi Ganguly (pictured above) is the South Asia Director of Human Rights Watch.
This article is part of our editorial section
Wars and Conflicts
that carries news and views from all parts of the world.
Photo courtesy: Human Rights Watch
Support RMN News Service for Independent Fearless Journalism
In today's media world controlled by corporates and politicians, it is extremely difficult for independent editorial voices to survive. Raman Media Network (RMN) News Service has been maintaining editorial freedom and offering objective content for the past more than 12 years despite enormous pressures and extreme threats. In order to serve you fearlessly in this cut-throat world, RMN News Service urges you to support us financially with your donations. You may please click here and choose the amount that you want to donate. Thank You. Rakesh Raman, Editor, RMN News Service.