President Obama and the First Lady Join KaBOOM!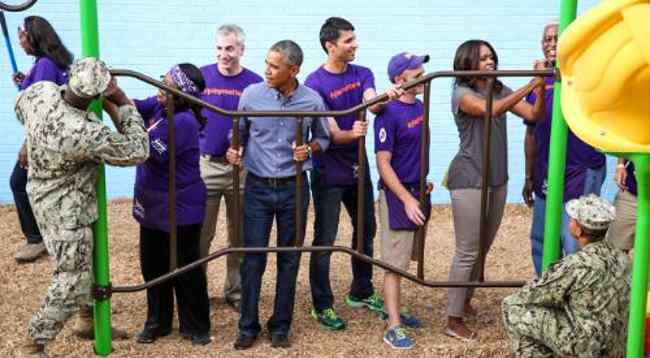 President Barack Obama and First Lady Michelle Obama joined representatives from KaBOOM!, MyGoodDeed, AmeriCorps National Civilian Community Corps, Corporation for National and Community Service, The Inspired Teaching School, and Washington community members to commemorate this year's National Day of Service and Remembrance by participating in service projects to improve the lives of local children though play.
One of the service projects the President and First Lady participated in was the assembly of more than 300 KaBOOM! play packs to bring balanced and active play to local kids in need.
The play packs will be donated to two area nonprofits dedicated to improving the lives of homeless children – DC Homeless Children Playtime Project and Extra-Ordinary Birthday Parties.
"We are honored to have President Barack Obama and First Lady Michelle Obama join us today as we commemorate this important day and improve the lives of children through the power of play," says KaBOOM! CEO and founder Darell Hammond.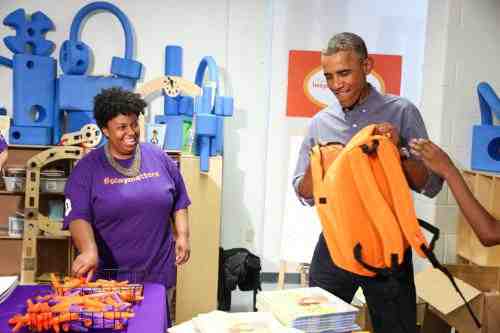 As part of the day's activities, a new playground was also built for The Inspired Teaching School, which will positively impact more than 500 children and their families by providing a safe place for kids to get the play they need to thrive.
Today's service projects and playground build illustrated the importance of play and the bonds it forges with children and the caring adults in their lives. It also served as a shining example of how a community, by bringing together different partners and serving together, can ensure kids get the playful childhood they deserve.
KaBOOM! is the national non-profit dedicated to the goal of bringing balanced and active play into the daily lives of all children, particularly those growing up in poverty in America.