AHF to Host National HIV Testing Day Events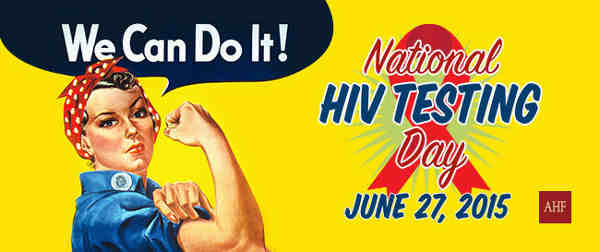 AIDS Healthcare Foundation (AHF), a global AIDS organization, will commemorate National HIV Testing Day on Saturday, June 27th through events promoting HIV prevention, testing and treatment that will be held in 20 cities across the United States.
According to the Centers for Disease Control and Prevention (CDC), an estimated 1.2 million people in the United States are currently living with HIV, with almost 50,000 people becoming infected with the virus annually.
With one in seven people being unaware of their HIV status, the CDC has found that more than 90 percent of new HIV infections in the United States could be prevented by testing and diagnosing people who have HIV and connecting them to medical care to suppress the virus.

AHF's graphic and online promotion of National HIV Testing Day will feature an update of the "Rosie the Riveter" image from World War II, combining the official National HIV Testing Day logo with the classic "We Can Do It" tagline.
It will encourage people—especially women, who made up one in five new HIV infections in 2010—to get tested and learn their HIV status. Supporters of National HIV Testing Day can include #WeCanDoIt and the official #NHTD hashtag on their social media posts honoring the commemoration.
You can check out the list of AHF's National HIV Testing Day events.