Jennifer Lopez Launches Center for Healthy Childhood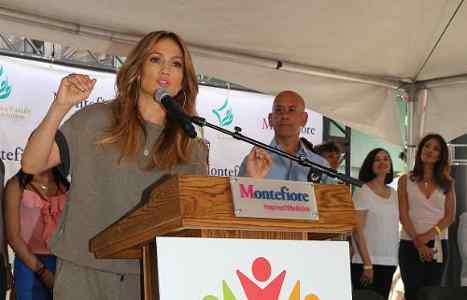 Jennifer and Lynda Lopez, co-founders of the Lopez Family Foundation, and Montefiore Health System launched Sunday the Center for a Healthy Childhood at Montefiore's Community Health Fair.
The new initiative between the Lopez Family Foundation and Montefiore aims to promote healthy living through community health programming, positive messages to raise children's self-image and a healthy environment so every woman, child and family can achieve their full potential.
[ Also Read: Finally, Jennifer Lopez Returns to the Bronx ]
During the surprise visit, the Lopez Family Foundation made a $250,000 donation to Montefiore.
The fair, a concept brought to Montefiore by Jennifer and Lynda, was held on Montefiore's Moses Campus.
"We can do so much to make the Bronx, our hometown, a healthier place. We can exercise together and we can eat well together. The Center for a Healthy Childhood will help make our vision a reality on every block," said Jennifer Lopez.
[ Also Read: Actress Selena Gomez Visits Nepal to Meet Children ]
"It feels good to come home and talk to moms and kids about making healthy lifestyle decisions – they can make changes now that will set them on a path for a long, happy life."
The Center will serve Montefiore patients and their families, as well as the tens of thousands of children and families in the Bronx and beyond reached through partnerships with the New York City Department of Education, the New York City Department of Health and Mental Hygiene and other health and social service providers.