10 Reasons I Like Sir Arvind Kejriwal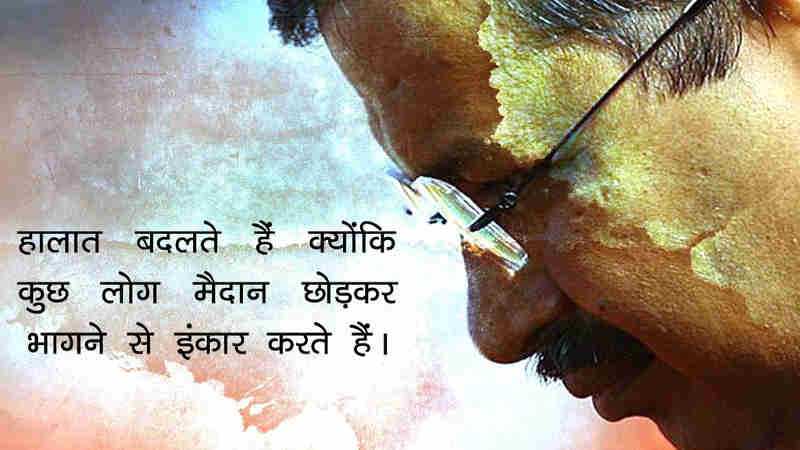 Arvind Kejriwal is being pooh-poohed by every aam aadmi (common man) of India for whom he formed his Aam Aadmi Party (AAP). But I still like Kejriwal.
By Rakesh Raman

While explaining his law of gravity, the great scientist Sir Isaac Newton once said: "What goes up must come down."
But how much? Newton didn't explain. That part is now being explained by Arvind Kejriwal – the government servant-turned-activist-turned-protestor-turned-politician-turned-chief minister in the Indian state, Delhi.
Riding the shoulders of the social activist Anna Hazare, Kejriwal touched meteoric heights in a short span of his political career. But he fell down as fast as he went up, exactly as Newton suggested.
His gravity-defying rise in the past few years is now shifting to a catastrophic fall to a level that has no bottom. He is being pooh-poohed by every aam aadmi (common man) of India for whom he formed his Aam Aadmi Party (AAP).
But I still like Kejriwal. You know why? Here are these 10 reasons:
1. Honest
You will not find such an honest man on earth even if you are searching with a candle in your hands. Yes, not even on Himalayas where sadhus (ascetics) worship. Kejriwal's honesty is reflected in his determination to end corruption.
To achieve this objective, he even cheated his guru and mentor Anna Hazare and hijacked his anti-corruption movement of 2011. What is this if not honesty? After cheating, this honest man is trying hard to eradicate corruption. Result? Be patient. You will have to wait for a few decades till you see the results.
2. Attractive
Media would ignore the likes of Arnold and Angelina to cover Kejriwal's reality shows in Delhi secretariat, his home, or on Delhi roads. Sometimes, you would feel that Indian media is corrupt and can be purchased by any politician.
That may be true. But not in the case of Kejriwal. Rather, it's his charisma that attracts herds of journalists toward him. In a way, he is helping newspapers stuff their pages and TV channels run 24×7 programs with always-fresh reports. Don't you agree?
3. Record Breaker
Most think Kejriwal is a big liar. As falsehood runs in his blood, he tells lies with the same ease with which people speak the truth. He can even swear by his kids while telling lies and you can't even blink as fast as he speaks lies. And when he says truth is with him (sachai mere sath hai), that is also a blatant lie.
People may think so, but I don't agree. Actually, I feel he is trying for an international award for telling maximum number of lies by a single man living or dead. If you come across such an award for the greatest liars of the world, just inform him so he could bag it for the country.
4. Countryman
You may say that Kejriwal is a selfish man who is doing everything for his own publicity and promotion. But no. He is working for all the people of the country. How?
Even when three people get affected of a wrongdoing, Kejriwal would say the whole country (pura desh) is suffering. And the whole country is with him to fight with the Indian government against the ongoing crimes.
These are, in fact, his feelings for the country that make him believe that the whole country is standing with him even when he is surrounded by a few of his idle cap-clad crooks.
5. Dynamic
People concur that Kejriwal can change his statements faster than a chameleon (girgit, a kind of lizard) could change its colors. It's believed that he changes his statements as frequently as he changes his dresses. So, he is a cheat.
But I don't agree with what people say. In fact, he is a dynamic man who believes that his decisions should keep changing with the change of factors like temperature and air pressure around him. His dynamic traits force him to change his statements. Wow! What a man!
हालात बदलते हैं, क्योंकि कुछ लोग मैदान छोड़कर भागने से इंकार करते है! pic.twitter.com/ZAHI1buDWC

— AAP (@AamAadmiParty) April 25, 2018
6. Artistic
Whether he is sleeping on a Delhi footpath with a blanket on him or delivering dialogs with repeated coughing, you can't say he is trying to draw media gaze toward him.
Actually, Kejriwal is a practicing actor, I believe. You can't challenge his acting skills.
Believe it or not, he can alone win an Oscar or two with his acting prowess (for which India's Bollywood has been struggling for decades) if he is allowed to appear in a Bollywood flick. Give him a chance, I say.
7. Respectful
Kejriwal strongly believes that the world is full of corrupt men and women and says he has evidence against the corrupt. Not only that. He always promises that he will put all of them behind bars, in the prison.
But he would never do it. Why? Simply, because he has sheer respect for all of them. And because of this respect for the corrupt and the criminals, he has decided not to use the evidence that he flaunted openly.
Rather, Kejriwal is so honest that he often apologizes in order to save himself from the penalty for his frequent lies and misbehavior with others.
8. Accommodating
Look at him and his generosity. Kejriwal has welcomed every Tom, Dick, and Harry in his party AAP because he wants to accommodate and help all abandoned and aspiring souls who want to succeed with shortcuts without any hard work.
You can clearly observe that people who are naïve and clueless about any subject have become ministers in the government that he has cleverly formed. And he himself has become their chief.
And all these trainee ministers are trying to run the government. Don't worry if they are causing a whole lot of trouble in the town. After all, they are trainees. I'm sure they will learn in a few years. You will have to tolerate them for the time being. Will you?
9. Bold
With his boldness and bravado, Kejriwal will come to the street to protest against anything and everything. If your hen is stolen and police is not taking any action, he will arrange a protest and shut down the city in minutes.
His methods of protest are so path-breaking that they are used by his colleagues for breaking even police barricades. He is doing all this breaking business for you and you only. After all, you need to take your hen back. Don't you?
10. Reformer
He believes in reforming all rusty systems in the country. Take city security, for instance. Immediately after becoming the Chief Minister of Delhi, he struggled to send an "erring" policeman on leave from a police force of hundreds of thousands although he often complains that Delhi Police department is not under him.
Claiming that this is the victory of the common man, he has made himself and you believe that now there will be no crime in Delhi, as the whole police force is reformed.
With his assurance, now citizens can heave a sigh of relief because Kejriwal has told them Delhi is now crime-free – making Delhi the first such city in the world. Don't you believe him?
– – –
With all these qualities, he deserves his statue to be made and installed right in the heart of Delhi. Why? Because statues can't make as much trouble as a living being can. And those who don't get a chance to meet Kejriwal in person, can go and worship his statue.
Jai ho, Sir Arvind Kejriwal.
By Rakesh Raman, who is a national award-winning journalist and social activist. He is the founder of a humanitarian organization RMN Foundation which is working in diverse areas to help the disadvantaged and distressed people in the society.
Support RMN News Service for Independent Fearless Journalism
In today's media world controlled by corporates and politicians, it is extremely difficult for independent editorial voices to survive. Raman Media Network (RMN) News Service has been maintaining editorial freedom and offering objective content for the past more than 12 years despite enormous pressures and extreme threats. In order to serve you fearlessly in this cut-throat world, RMN News Service urges you to support us financially with your donations. You may please click here and choose the amount that you want to donate. Thank You. Rakesh Raman, Editor, RMN News Service.