Air Canada's Dreamliner Touches Down in Toronto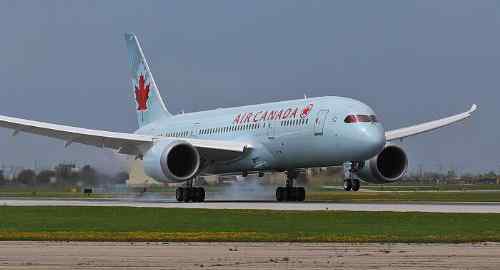 Air Canada has completed its first Boeing 787 Dreamliner flight with the arrival of AC7008 at Toronto's Pearson airport this Sunday afternoon carrying 100 of the airline's employees on its maiden voyage.
Air Canada is said to be the first Canadian airline to fly the new aircraft which, with its long-range and fuel efficiency, will play a starring role in the airline's international expansion strategy. Air Canada has orders for 37 Boeing 787 aircraft.
"This is an exciting day for all of us at Air Canada as we bring home our first Dreamliner," said Calin Rovinescu, president and CEO.
Air Canada is Canada's leading domestic and international airline serving more than 180 destinations on five continents.
In the picture above: Flight AC7008, Air Canada's first 787 Dreamliner, lands at Toronto's Pearson Airport, Sunday, May 18, 2014.