Australia, U.S. Discuss Defense Cooperation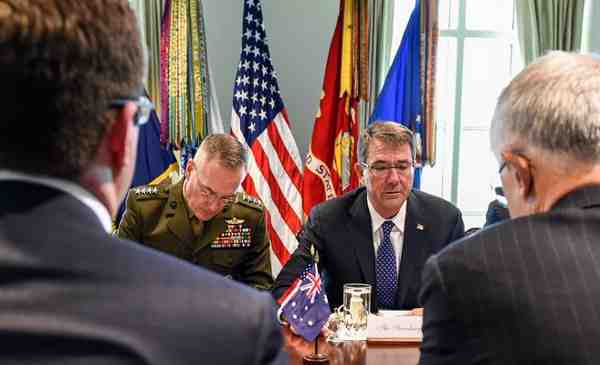 The U.S. Defense Secretary Ash Carter welcomed Australian Prime Minister Malcolm Turnbull at the Pentagon for a discussion on defense cooperation between the United States and Australia.
In a statement provided by Peter Cook, Pentagon press secretary, Carter and Turnbull discussed recent developments in Iraq and Syria, and the need to continue close collaboration on security issues in the Asia-Pacific region.
[ Vladimir Putin Meets Narendra Modi in Russia. But Why? ]
Carter expressed appreciation for Australia's contributions to the counter-ISIL coalition, as well as Australia's continued support in Afghanistan.
Carter said he looks forward to Australia's participation in the counter-ISIL coalition meeting Jan. 20, in Paris.
In the picture above: Defense Secretary Ash Carter, center right, and Australian Prime Minister Malcolm Turnbull, right, discuss defense cooperation at Pentagon on Jan. 18, 2016. DoD photo by U.S. Army Sgt. 1st Class Clydell Kinch