Carter: Iraqi Forces Failed to Fight for Ramadi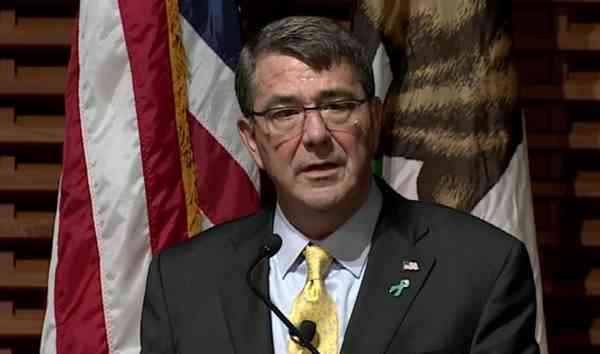 U.S. Defense Secretary Ash Carter has blamed the Iraqi forces that couldn't face the combative powers of Islamic State of Iraq and the Levant (ISIL or ISIS) extremists who took control of Ramadi a week ago.
Iraqi forces failed to fight for the city and instead withdrew, Carter said in an interview broadcast on CNN's "State of the Union" program Sunday.
"What apparently happened is the Iraqi forces just showed no will to fight," Carter told Barbara Starr, CNN's Pentagon correspondent. Iraqi security forces must have the will to fight and defend themselves against ISIL extremists, he added.
[ Is Islamic State an Independent Country, Now? ]
Iraq's forces were not outnumbered in the fight for Ramadi when ISIL gained control of the city, the secretary said. "[They] vastly outnumbered the opposing force, and yet they failed to fight," the secretary said. "They withdrew from the site, and that says to me — and I think most of us — that we have an issue with the will of Iraqis to fight ISIL and defend themselves."
U.S. military forces can provide the Iraqis with equipment and training, but "we obviously can't give them the will to fight," Carter said. With equipment, training, coalition support and some time, the secretary added, he hopes the Iraqis will develop that will.
[ U.S. Plans New Steps to Fight and Defeat ISIS ]
Only Iraqis can defeat ISIL in their own country, the secretary told Starr. "If there comes a time where we need to change the kind of support we're giving to the Iraqi forces, we'll make that recommendation," he said.
U.S. military and coalition forces have made regular airstrikes against ISIL and its facilities in Iraq since August, but those airstrikes have limitations, the secretary noted. "Airstrikes are effective, but neither they nor anything we do can substitute for the Iraqi forces' will to fight," Carter said.
U.S. forces can participate in ISIL's defeat, the secretary said. "But we can't make Iraq run as a decent place where people live," he added. "We can't sustain the victory."
[ Also Read: Islamic State Opens Medical College in Mosul ]
Carter denied that the Defense Department has recommended putting U.S. forward air controllers –- military personnel who direct fighter pilots to targets — on the ground in Iraq.
"What happened in Ramadi was a failure of the Iraqi forces to fight," Carter said. DoD's efforts, he added, are devoted to providing Iraqi ground forces with equipment, training, "and to try to encourage their will to fight so that our campaign enabling them can be successful, both in defeating ISIL and keeping ISIL defeated in a sustained way."
This article is part of our RMN editorial section
Wars and Conflicts
that carries related news and views from all parts of the world.