David Beckham: Sexiest Man Alive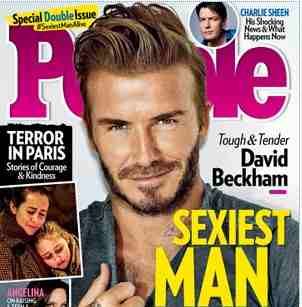 According to Time Inc.'s People, David Beckham is confident bending it like you-know-who, rocking a bespoke suit, even posing practically shirtless at a People photo shoot.
But at heart, he's a self-effacing East London boy, who can't believe he scored People's 30th anniversary Sexy Man crown.
"I never feel I'm sexy," the soccer icon told People. Happiest nesting with wife Victoria and their four kids, doing carpool and yes, vacuuming (he's a neat freak), he's flattered to join the club: "It's a huge honor," says Beckham, "and I'm very pleased to accept."
People's "Sexiest Man Alive" 30th anniversary special double issue hits newsstands on Friday, Nov. 20.
How did wife Victoria respond to the news? "We kind of laughed about it with the boys, and the boys kind of laughed at me and said, 'Really?! Sexiest man alive? Really?' My oldest son Brooklyn was the one who was like, 'Are you sure it's not me that's meant to be there today?'"
Victoria says, "Around the house, David is just David, not the Sexiest Man Alive!" She adds, "He's a really good person. He's a really great dad, he's very kind, charitable and he inspires me every day."