Disney Party with Rocky and CeCe Penguins
Disney's Club Penguin kicked off the Make Your Mark: Ultimate Jam event, which transforms the leading virtual world for kids into a fun music and dance party.
The party will feature guest appearances by Rocky and CeCe penguins from Disney Channel's series, "Shake It Up," marking the first time players will have the chance to interact with Disney Channel personalities in world.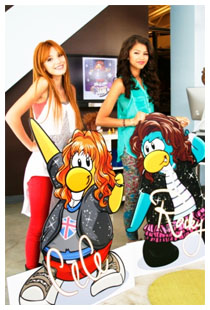 Right before the event, Club Penguin will also release its first-ever single and music video, "The Party Starts Now" in English, French, German and Spanish.
From July 19 to July 31, players will have the chance to jam like the Rocky and CeCe penguins, meet these penguin personalities in world and unlock exclusive moves based off of the characters' signature dance styles from "Shake It Up."
Club Penguin members will also be able to dress their penguins in outfits inspired by Rocky and CeCe's unique styles and deck out their igloos with all new music and dance themed decorations.
As part of the Make Your Mark: Ultimate Jam event, players can use their imaginations to become whatever they want to be with a variety of new activities and roles.
Club Penguin (http://www.clubpenguin.com) is a virtual world for children.
Club Penguin works to maintain a fun and safe online entertainment experience by using filtering technology and live moderators. The virtual world of Club Penguin contains no third-party advertising and is free to use and enjoy. However, a subscription membership provides access to additional features that enhance the play experience.
Club Penguin, headquartered in Kelowna, British Columbia, Canada, is enjoyed by children around the world, and can be played in English, German, Portuguese, French and Spanish.