DJs to Crown McDonald's Flavor Battle Champion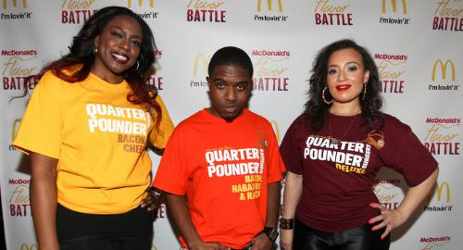 Music industry heavy hitters Spinderella, Just Blaze and DJ Clue will use their DJ'ing expertise to help crown the 2014 McDonald's Flavor Battle champion during an online broadcast today at 9 p.m. EST on FlavorBattle.com.
The judges will watch as DJ R-Tistic of Los Angeles, DJ Niena Drake of Chicago and DJ Erika B of Newport News, Va., battle it out on the 1s and 2s for the chance to win a $10,000 grand prize and major bragging rights.
Rounding out the judges' table will be 2013 McDonald's Flavor Battle winner, DeeJay Element, while the legendary DJ Funkmaster Flex will serve as the show's host.
[ Also Read: Model Search: Are You the New Face of Ambi? ]
The final three will be judged on crowd appeal, mixing skills, technique and performance flow. Throughout the finale, TV personality and radio host, Sway Calloway of "Sway In The Morning," will serve as the social media correspondent and will help keep the chatter going with viewers and music enthusiasts everywhere.
"The excitement surrounding the McDonald's Flavor Battle competition grows each year," says four-time judge and DJ, Spinderella. "The competition is hotter than ever and it's great to see how each DJ brings their own flavor. This is a must-watch finale."