Free Yoga Classes at the Cleveland World Festival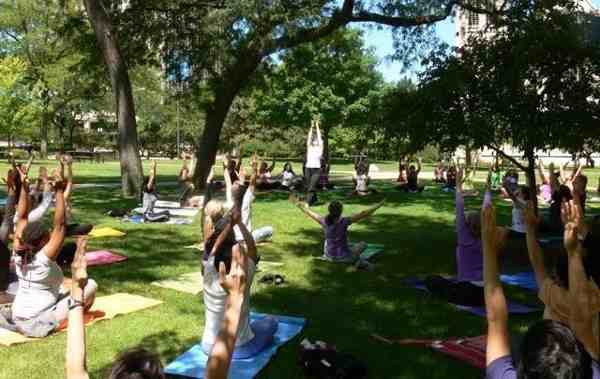 For the third consecutive year, Pink Lotus Yoga will be offering free outdoor yoga classes at the Cleveland World Festival on Sunday, August 2. Classes will be offered on the hour starting at 1 p.m. with the final class starting at 5 p.m.
The classes will be held in the Croatian Garden (just south of the Hungarian Garden and the Shakespeare Gate on the east side of MLK Boulevard) in Cleveland's Cultural Gardens. Some mats and yoga chairs will be provided.
[ Also Read: 10 Reasons Why Yoga May Not be Good for You ]
The Cleveland World Festival (CWF) is a free, one-day event that celebrates Cleveland's diverse community with over 120 different ethnic groups, offering visitors a unique opportunity to experience a smorgasbord of the customs, costumes, music, food, and sports, reflecting the diverse cultures that make up Cleveland's heritage.
The Festival is an arts and entertainment event staged in the Cleveland Cultural Gardens of Rockefeller Park, in partnership with the Famicos Foundation.
First held on August 25, 2013 and attracting 15,000 visitors, CWF is designed to showcase a diversity of cultures through artistic performance. Learn more about the Cleveland World Festival at
Pink Lotus Yoga is a community studio offering a wide range of yoga styles to explore and enjoy.