Guinness World Record for Team Hot Wheels
Two drivers for Team Hot Wheels set a Guinness World Records title Saturday for successfully racing through a 60-foot-tall double vertical loop at X Games Los Angeles 2012.
The Team Hot Wheels Double Loop Dare, a life-sized version of a Hot Wheels orange track set, defied gravity with a first-of-its-kind two-driver challenge.
Green Driver Greg Tracy, one of Hollywood's top stuntmen, took first place victory as he edged three-time X Games gold medalist and Hot Wheels Yellow Team Driver Tanner Foust as the two simultaneously raced through the giant up-side-down loop.
"Boys of all ages around the world imagine playing with Hot Wheels on a life-size scale – and our vision with Team Hot Wheels was to transform this fantasy into reality," said Simon Waldron, vice president marketing, wheels, Mattel.
"The Double Loop Dare was truly a can't-miss spectacle that altered the Los Angeles skyline. Anyone downtown couldn't miss this massive six-story-tall bright orange structure — it was unmistakably Hot Wheels."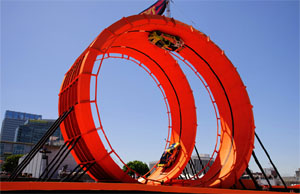 The Team Hot Wheels Double Loop Dare was modeled after the new Team Hot Wheels Double Dare Snare track set — available globally at retail — which lets boys race their 1:64 scale Hot Wheels cars side-by-side in a vertical loop competition.
The larger than life Double Loop Dare incorporated an enormous side-by-side loop, exerting a force of 7 G's which Team Hot Wheels drivers took on at a speed of 52 MPH.
"I've been a fan of Hot Wheels since I was a little kid, racing cars around my parents' living room," said Tracy, a six-time Pikes Peak Champion and a Hollywood stuntman since 1991. "So to be able to be a part of something like this — with Hot Wheels bringing one of its toys to life — is remarkable."
Meanwhile, Foust, who provided tremendous competition, and spirit can continue to boast about his latest world record obtaining the longest distance vehicle jump at last year's Indianapolis 500.
Additionally Foust a world-renowned professional stunt driver has two Formula Drift Championships complimenting his three X Games gold medals. He will be racing for more X Games glory in the RallyCross competition today, July 1, on ESPN.