Honda Delivers First HondaJet in Europe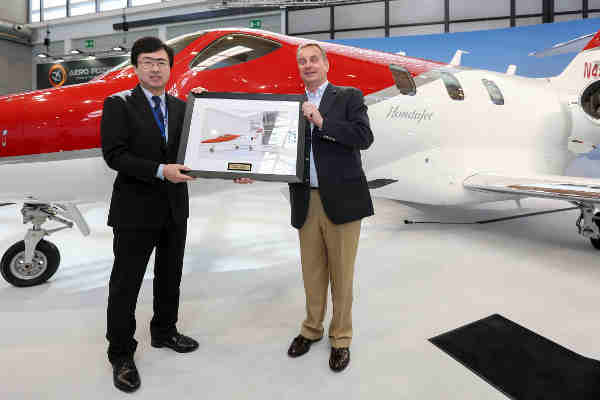 Honda Aircraft Company has delivered the first HondaJet into Europe. The announcement was made during a ceremonial delivery at AERO 2016, which is taking place in Friedrichshafen, Germany from April 20-23.
The first HondaJet to enter service in Europe will be operated by Rheinland Air Service, the exclusive HondaJet dealer for Central Europe.
According to the company, the HondaJet was developed from a clean sheet design and incorporates advanced technologies and innovations.
The HondaJet Over-The-Wing Engine Mount (OTWEM) configuration, natural-laminar flow wing and composite fuselage were developed from long-term Honda research activities.
The company says these innovations combine to make the HondaJet the fastest, most spacious and most fuel-efficient jet in its class.
The HondaJet is manufactured at Honda Aircraft Company's world headquarters in Greensboro, North Carolina.
The HA-420 HondaJet received FAA type certification in December 2015 and immediately began customer deliveries in North America.
In the picture above: Honda Aircraft Company President and CEO Michimasa Fujino participates in a ceremonial delivery with Johannes Graf von Schaesberg, chairman and CEO of Rheinland Air Service.