IndiGo Airlines Introduced Stair Lifts at Indian Airports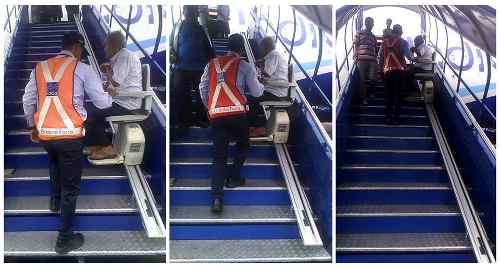 IndiGo Airlines has introduced stair lifts for passengers suffering from reduced mobility at the Indian airports which do not have ramp facility.
This announcement made today aims to benefit the elderly, sick and the injured air passengers.
The technology and equipment for this facility was supplied by Vin Grace, an Indian company specializing in equipment for people with special needs.
[ Also Read: Air China Connects Beijing with Washington ]
According to IndiGo, the maximum allowed number of passengers having severe reduced mobility per flight is limited to four.
This is in keeping with international norms which require that the number of individuals with reduced mobility should not be more than the personnel trained to assist with evacuation.
IndiGo commenced operations in early 2006. It has a dedicated fleet of 78 Airbus A320 aircraft and covers a total of 36 domestic and international destinations.