Iraq Accepts Lockheed Martin F-16 Fighting Falcon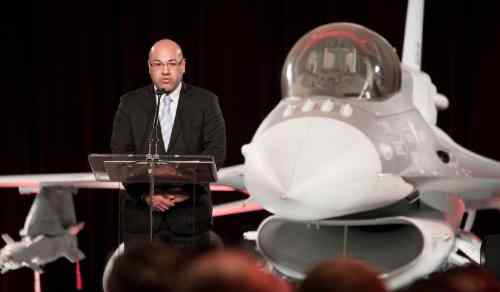 Lockheed Martin (NYSE: LMT) delivered the first of 36 F-16 Block 52 aircraft to the Iraqi Air Force during a ceremony Thursday at its Fort Worth facility.
Lockheed Martin is producing the F-16s under a contract from the U.S. Department of Defense. The F-16s are being built in a configuration tailored to meet the specific requirements of the Iraqi Air Force, and the contract includes mission equipment and a support package provided by Lockheed Martin and other U.S. and international contractors.
"Iraq joins 27 other nations around the world who depend on the F-16 Fighting Falcon to maintain peace and security," said Orlando Carvalho, executive vice president of Lockheed Martin Aeronautics. "We are proud to play a role in the defense of a new democracy and look forward to strengthening our partnership with Iraq."
Headquartered in Bethesda, Maryland, Lockheed Martin is a global security and aerospace company.
In the picture above: Iraq's ambassador to the U.S., Lukman Faily, highlights the importance of partnership between Iraq and the United States during a ceremony marking the delivery of the first Iraq F-16 Fighting Falcon at Lockheed Martin's Fort Worth, Texas, facility.