Miss Indian World Competition in Albuquerque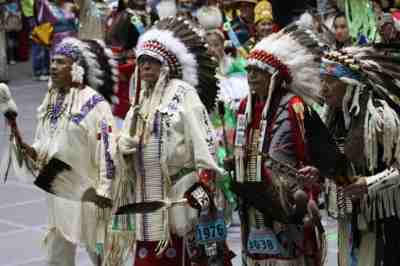 A large gathering of Native American and indigenous people will take place on Thursday, April 23, 2015 in Albuquerque, N.M.
The 32nd Annual Gathering of Nations, considered the most prominent Native American powwow in the world, will host tens of thousands of people and more than 700 tribes from throughout the United States, Canada, and around the world.
The three-day event will include more than 3,000 traditional Native American dancers and 50 drum groups competing, and more than 800 Native American artisans, craftsmen and traders displaying and selling their work.
[ Dinah Vegas Show by Lesbians for Lesbians ]
In addition, contemporary indigenous music groups will be performing a wide variety of musical genres. Vendors in the Native Food Court will offer guests a large selection of food choices ranging between southwestern-style cuisine and traditional Native American fare.
As part of the Gathering of Nations, a young Native American woman will be crowned Miss Indian World and represent all native and indigenous people as a cultural goodwill ambassador.
The contestants will compete in the areas of tribal knowledge through interviews, essays, public speaking and traditional presentation, and dance.
[ Macy's Hosts Miss America 2014 Nina Davuluri ]
The Gathering of Nations opens with the Miss Indian World competition on Thursday, April 23 at 7 p.m. at the Albuquerque Convention Center.
The "Grand Entry" begins at noon on Friday, April 24. The Grand Entry will be repeated Friday evening at 7 p.m. and on Saturday, at 12 p.m. (noon) and 6 p.m.
The new Miss Indian World will be crowned on Saturday evening, after the Grand Entry. The Gathering of Nations will be held at the WisePies Arena aka The Pit in Albuquerque.