NASA's 'Flying Saucer' Readies for First Test Flight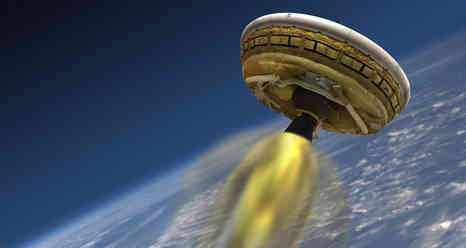 NASA's flying saucer-shaped test vehicle is ready to take to the skies from the U.S. Navy's Pacific Missile Range Facility in Kauai, Hawaii, for its first engineering shakeout flight.
The first launch opportunity for the test vehicle is today, June 3, when the launch window opens at 8:30 a.m. HST. The test will be carried live on NASA TV and streamed on the Web.
The Low Density Supersonic Decelerator (LDSD) will gather data about landing heavy payloads on Mars and other planetary surfaces.
"The agency is moving forward and getting ready for Mars as part of NASA's Evolvable Mars campaign," said Michael Gazarik, associate administrator for Space Technology at NASA Headquarters in Washington. "We fly, we learn, we fly again. We have two more vehicles in the works for next year."
As NASA plans increasingly ambitious robotic missions to Mars, laying the groundwork for even more complex human science expeditions to come, accommodating extended stays for explorers on the Martian surface will require larger and heavier spacecraft.
The objective of the LDSD project is to see if the cutting-edge, rocket-powered test vehicle operates as it was designed — in near-space at high Mach numbers.
NASA TV will carry live images and commentary of LDSD engineering test. The test vehicle itself carries several onboard cameras. It is expected that video of selected portions of the test, including the rocket-powered ascent, will be downlinked during the commentary.
Photo courtesy: NASA