Paleontologists Discover Ancient Pygmy Tyrannosaur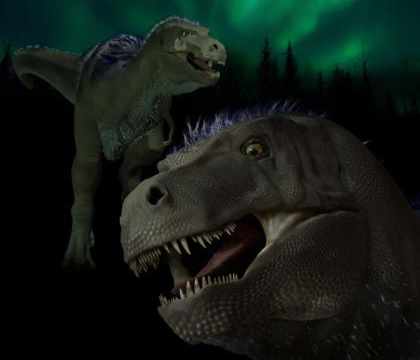 Paleontologists from the Perot Museum of Nature and Science in Dallas have discovered a new genus and species of a tyrannosaur that once roamed the ancient Arctic lands of Northern Alaska.
Compared to its cousin Tyrannosaurus rex, this new animal, which has been formally named Nanuqsaurus hoglundi, is a pygmy.
The first name honors the Inupiat people whose traditional territory includes the land where these bones were found, and the second name is in honor of Dallas entrepreneur and philanthropist Forrest Hoglund, whose leadership helped raise $185 million to build the new Perot Museum, which opened in late 2012.
The Nanuqsaurus, which loosely translates to "polar bear lizard," is a pint-sized cousin to one of the most revered dinosaurs of them all – the Tyrannosaurus rex.
While a typical adult T. rex might have been 40 feet in length and weighed 7-to-8 tons, it is estimated that the diminutive yet fully grown Nanuqsaurus would be approximately 25 feet long and weigh 1,000 lbs.
The scientific paper describing the find – entitled "A Diminutive New Tyrannosaur from the Top of the World" – has been posted today on the science journal PLOS ONE.
It is an international, peer-reviewed, open-access online journal that features reports on primary research from all scientific disciplines.
Dallas paleontologists Anthony R. Fiorillo, Ph.D., the Perot Museum's curator of earth sciences, and Ronald S. Tykoski, Ph.D., fossil preparator at the Museum, co-authored the report.