Portraits in Leadership: Interviews with Congresswomen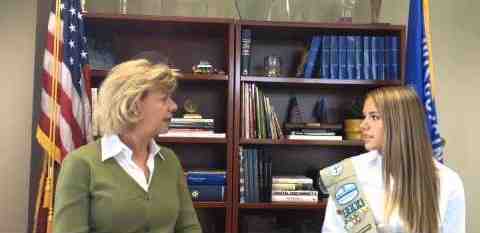 Girl Scouts of the USA (GSUSA), a girl leadership development organization, announced Monday the release of a new video series called Portraits in Leadership.
In an intimate and candid series of profiles, Girl Scouts across the country conducted interviews about leadership and life lessons with their female representatives in the United States Congress.
They asked them about their own unique leadership journey, and talking about the skills girls and women will need in order to succeed in the twenty-first century.
Senator Kelly Ayotte is interviewed by a Girl Scout.
"Portraits in Leadership is about bringing tomorrow's female leaders together with those of today, passing on lessons about what it takes to succeed as women leaders in Congress and in life," said Anna Maria Chavez, CEO of GSUSA.
[ Also Read: President Barack Obama Discusses the Recent Unrest in America ]
In the 113th Congress, 70 percent of the women in the U.S. Senate and 57 percent of the women in the House of Representatives are Girl Scout alumnae; but regardless of whether or not they were Girl Scouts, each Congresswoman spoke of the value of having an organization such as Girl Scouts to help girls develop leadership skills.
Girl Scouts from more than 20 congressional districts met with their female representatives, both Republicans and Democrats.
Senator Tammy Baldwin is interviewed by a Girl Scout.
Portraits in Leadership is an experience for Girl Scouts, and an opportunity for women in Congress to share their stories with the world's girls.