Starbucks and Oprah Winfrey to Offer Teavana Oprah Chai Tea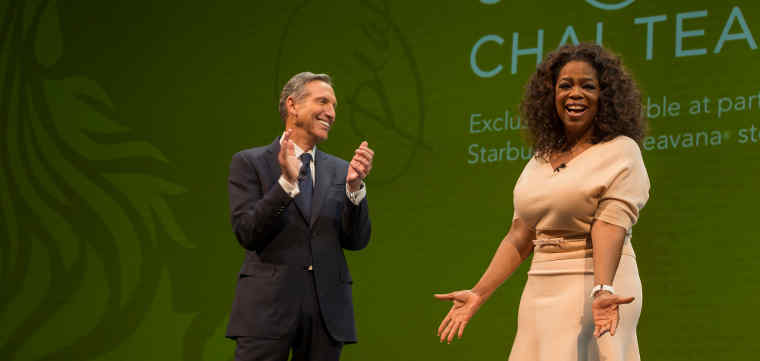 Howard Schultz, chairman, president and ceo of Starbucks (NASDAQ: SBUX), and Oprah Winfrey, global media leader and philanthropist, have announced a collaboration to co-create Teavana Oprah Chai Tea.
Beginning April 29, Teavana Oprah Chai will be sold in Starbucks and Teavana stores across the U.S. and Canada, with Starbucks making a donation for each product sold to the Oprah Winfrey Leadership Academy Foundation to benefit educational opportunities for youth.
"With the introduction of Teavana Oprah Chai, we are going to elevate the tea experience in the same way we did for coffee," said Schultz.
Oprah Winfrey personally developed the tea with Teavana's leading teaologist Naoko Tsunoda.
The distinctive blend of tea, which features a bold infusion of cinnamon, ginger, cardamom and cloves, blended with loose-leaf black tea and rooibos, will be made available to customers in time for Mother's Day in the U.S. and Canada in handcrafted latte and loose-leaf tea formats.
"I looove tea," said Oprah Winfrey. "My daily tea ritual is a vital part of my morning."
For more information, visit www.oprah.com/SteepYourSoul.