Coalition Forces Begin Operations Against ISIS in Tikrit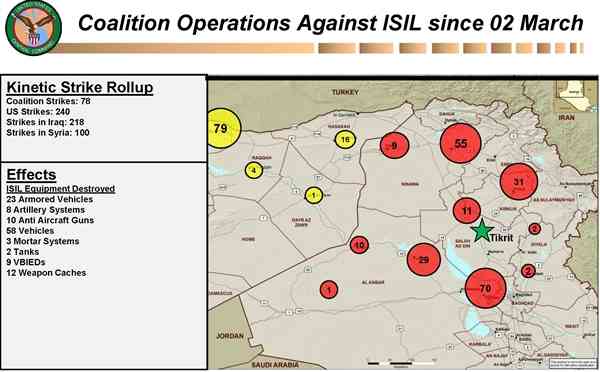 The U.S. and coalition military forces have begun operations in support of Iraqi security forces in Tikrit after a request from the Iraqi government, officials from Combined Joint Task Force Operation Inherent Resolve announced Wednesday.
According to a task force news release, the coalition is now providing direct support to Iraqi security forces conducting operations to expel the Islamic State of Iraq and the Levant (ISIL or ISIS) from the city.
The joint, combined task force is providing airstrikes, airborne intelligence capabilities, and advise and assist support to Iraqi security force headquarters elements to enhance their ability to defeat ISIL, officials said.
[ Coalition Airstrikes Killed 2000 People in Syria ]
"These strikes are intended to destroy ISIL strongholds with precision, thereby saving innocent Iraqi lives while minimizing collateral damage to infrastructure," said Army Lt. Gen. James L. Terry, task force commanding general. "This will further enable Iraqi forces under Iraqi command to maneuver and defeat ISIL in the vicinity of Tikrit."
In addition to airstrikes, coalition forces also continue to provide critical training to Iraqi security forces, according to the officials. There are currently 4,800 Iraqi troops in training at four building partner capacity sites in Iraq, with 3,000 of those troops entering training three weeks ago.
This article is part of our RMN editorial section
Wars and Conflicts
that carries related news and views from all parts of the world.