Domino's Launches New Pizza Delivery Vehicle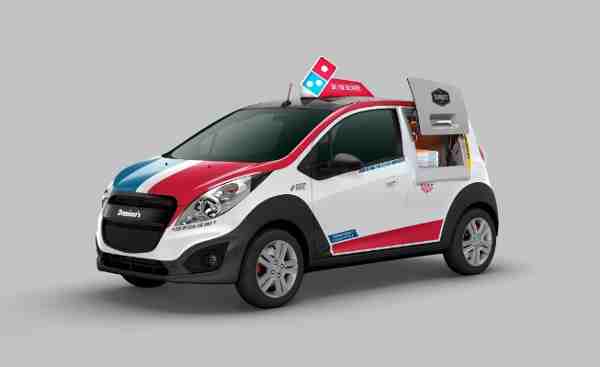 Pizza company Domino's (NYSE: DPZ) is launching the Domino's DXP (Delivery Expert), a specially designed and built pizza delivery vehicle.
The DXP is the combined brainchild of former GM R&D executive Kenneth R. Baker, Michigan-based Roush Enterprises and Domino's.
To also include consumers' input, hundreds of concepts were initially identified in an online crowdsourcing design competition hosted by Local Motors.
"The Domino's DXP is the first purpose-built vehicle aimed at revolutionizing pizza delivery," said Russell Weiner, president of Domino's USA. "This innovation allows drivers to do their jobs with greater ease and efficiency, and demonstrates that Domino's is absolutely fanatical about making perfect deliveries."
[ Nissan Reveals New All-Electric Concept Vehicles ]
The Domino's DXP also represents a collaboration among three Michigan brands: Domino's, Roush and General Motors. "As a 55-year-old company born in Michigan, it is an honor to be able to partner with other great Michigan companies to produce the DXP," said Weiner.
The design and production of the Domino's DXP took over three years. It started with a five-stage crowdsourcing competition hosted by Local Motors, on the company's open platform called Open IO.
The contest, called the Domino's Ultimate Delivery Vehicle Challenge, fielded 385 entries from designers around the world. Then, Roush and Baker adapted the concept and worked closely with Domino's to transform the Chevrolet Spark into a delivery vehicle for pizza and other menu items.
Consumers spotting DXP vehicles can share their sighting via social media using the hashtag #DXP.