Goodyear Reveals 10 Finalists for Name the Blimp Contest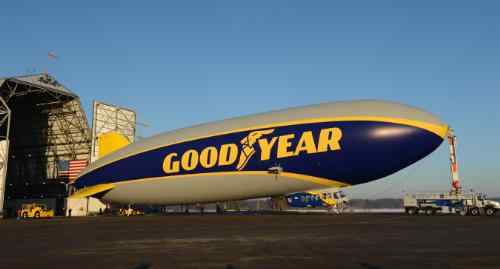 After receiving nearly 15,000 unique submissions for its national "Name the Blimp" contest, The Goodyear Tire & Rubber Company (NASDAQ: GT) has selected 10 finalist names for its newest blimp.
The finalist names were chosen based on criteria, including how the name reflects the history of airships, the majesty of lighter-than-air flight and Goodyear's track record of delivering superior performance and innovation.
The new blimp, which took its first test flight one month ago, is an all-new version of the tire company's world-famous icon.
[ Also Read: Can You Name This Goodyear Blimp? ]
The new airship is larger, faster, and more maneuverable and builds on the company's legacy as the world's leading builder and operator of airships, says Goodyear.
The finalists include the following 10 names:
Adventurer
Ambassador
Commitment
Excursion
Explorer
Goodwill
Inspiration
Pride of Goodyear
Resolute
Wingfoot One
Fans can vote on their favorite name by visiting Goodyear site beginning today through May 9.
The individual who originally submitted the winning name will receive the grand prize of access to the blimp for a day. The other nine finalists will each receive a set of Goodyear tires.
Goodyear will christen the new blimp this summer, activating it to continue the company's tradition of providing superior aerial coverage of key events, offering charity opportunities, and serving as one of the world's best-known corporate icons.