Here's a Cat 'Survival Guide' for the Big Game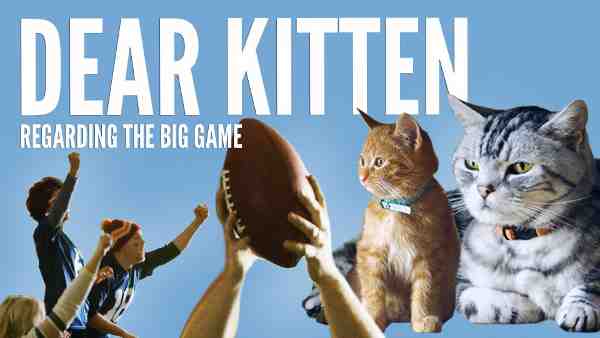 Cat-food brand Friskies will air an ad during the Big Game, for the first time ever. As part of an ongoing partnership with social news property BuzzFeed, Friskies will release the newest installment of the Dear Kitten series, titled "Dear Kitten: Regarding the Big Game."
Airing during the broadcast in select markets, this will mark the first time that both BuzzFeed and Friskies have advertised during the Big Game.
In this 60 second commercial, the all-knowing Cat returns to impart wisdom on Kitten about the Big Game and how to survive amidst humans' weird game-day behavior.
[ Victoria's Secret: Don't Drop the Ball ]
A component of Friskies distribution strategy, the ad will only be seen in three local markets that include the following cat-themed cities: Kitty Hawk, N.C., Los Gatos, Calif. and Pawnee, Neb.
The spot will debut and air on local NBC affiliate stations in each market on Sunday, February 1, during the game.
You can visit BuzzFeed's YouTube channel to watch "Dear Kitten: Regarding the Big Game" and visit Friskies YouTube channel for additional "Dear Kitten: Regarding the Big Game" content.
The Friskies brand offers a complete line of cat foods, including more than 60 wet, dry and treat varieties. Friskies is manufactured by Nestlé Purina PetCare, a global company in the pet care industry.