How Hyundai Drivers Reached the Moon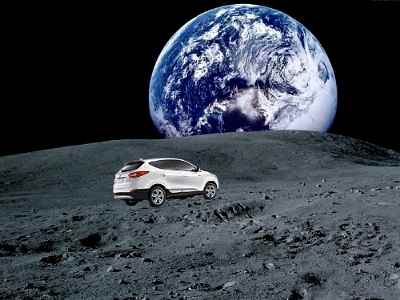 Hyundai Tucson Fuel Cell drivers have surpassed a threshold, recently accumulating more than 238,900 miles on the roads of Southern California, all while emitting only clean water vapor, the company said Wednesday.
The average distance from the earth to the moon varies with the lunar orbit, with 238,900 miles as an average estimated distance.
Hyundai has delivered more than 60 Tucson Fuel Cells since its introduction as the first mass-produced fuel cell in the U.S. market in June 2014.

"Surpassing this fundamental stellar threshold gives us a glimpse into the unlimited zero-emissions potential for Hyundai fuel cells," said Mike O'Brien, vice president, corporate and product planning, Hyundai Motor America.
"If a small fleet of hydrogen-powered fuel cell vehicles can accumulate this kind of mileage in just a few short months, one can only imagine the potential for a zero-emissions hydrogen vehicle future."
Hyundai service engineers, with permission from vehicle owners, receive periodic mileage updates from Tucson Fuel Cell vehicles in Southern California, allowing them to calculate cumulative mileage totals as needed to assess fuel cell stack maintenance status.