How Jeep Brand Turns City Street into Forest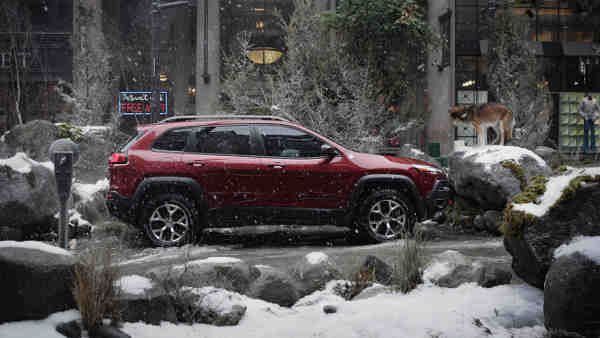 The Jeep brand suspended traffic on an unassuming city street in Vancouver, amazing city-dwellers by taking unsuspecting drivers by surprise.
It converted an entire block into a forest with a wild mountain river, brought to life with snowbanks, boulders, rocks, sand / gravel, moss, live fir trees and two wolves.
This approach was accomplished to introduce drivers to the versatility and real-world capability of the Jeep Cherokee.
The :30 "River in the City" commercial, which debuted on television this past weekend (January 4), unfolds as unsuspecting drivers were recruited to test the Jeep Cherokee by following directions from its navigation system throughout downtown Vancouver.
Following the detour, the directions soon led them to the "river in the city" and the drivers were actually a part of the real-life demonstration of the vast, wide range of capabilities of the Jeep Cherokee.
The commercial is further brought to life with captivating images of the drivers in the Jeep Cherokee confronting boulders and gravel amidst a raging river, all set against downtown parking meters and people moving down escalators in city buildings as the work day unfolds.
"We wanted to bring to life the real world capabilities of the Jeep Cherokee in a unique approach," said Olivier Francois, chief marketing officer, FCA – Global (FCA Content on Demand).
The :30 "River in the City" ad features a :60 version of the spot and includes three additional product commercials. The site also features an exclusive behind-the-scenes video and photo gallery that explores the making of the "River in the City" commercial, as well as interviews with the drivers taken on the unexpected detour.
The "River in the City" shoot took place from June 14 – June 18, 2014. The set was built and produced three days prior to the filming of the commercial. It took place on 400 Granville Street in downtown Vancouver, Canada.