Ireland: UN Approves Marriage Equality Referendum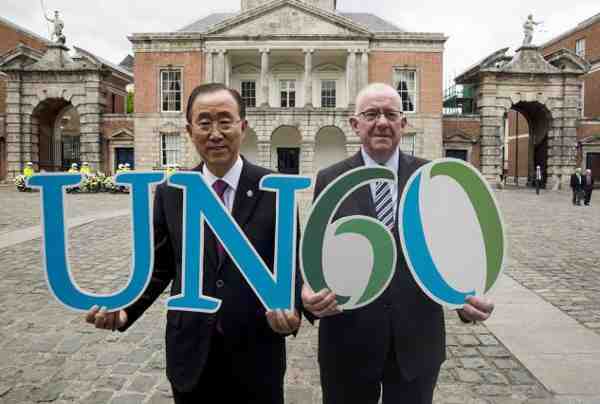 As he wrapped up a visit to Ireland Tuesday, the UN Secretary-General congratulated the country on its "fruitful and strong" relationship with the United Nations over the past 60 years (pictured above).
"Ireland has been a steadfast supporter of peacekeeping and an important contributor across the global agenda," said Ban Ki-moon during a press encounter with Enda Kenny, the Prime Minister of Ireland. "Today, Ireland's support is more needed than ever."
Mr. Ban outlined the agenda of a constructive meeting he had just held with Mr. Kenny, noting that, along with discussing development, climate change, peacekeeping and human rights, they also tackled the growing challenge of migration and refugee protection.
"I highly commend such compassionate leadership of Taoiseach Kenny with regard to the resettlement of many refugees who are in need of such help," said Mr. Ban. "We need a comprehensive approach to this challenge that looks at the roots and protects human rights."
He said he had seen on his visit some of the support that Ireland provides in resettling people who have fled some of the world's conflict areas, including Syria and Afghanistan.
Mr. Ban added his congratulations on the result of the marriage equality referendum, promising that the UN would continue its efforts to promote human dignity for all through the Free & Equal campaign.
Photo courtesy: UN