LG Hosts Coaches' Cook-Off Competition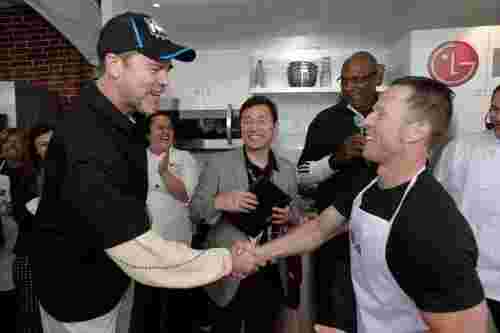 Silver Creek Elementary School of Azle, Texas earned a physical fitness Project Fit America grant from LG Electronics USA after winning the LG Coaches Cook-Off competition.
It took place outside of AT&T Stadium, at the Infiniti Tip-Off Tailgate, during the NCAA Final Four weekend.
The grant will be used for new indoor and outdoor physical fitness facilities, a curriculum and onsite training to help physical education teachers incorporate them in their lessons.
Teacher Trey Shearer from Silver Creek Elementary School secured the victory for his school by cooking the tastiest pizza of the group.
Shearer faced off against coaches from three other local elementary schools selected by Project Fit America for the competition.
The dishes were judged by an expert panel that included college and professional basketball legend Clyde Drexler, Head of Marketing, LG Electronics USA, Dave VanderWaal and James Music from the culinary school at the Art Institute of Dallas.
"Trey has exemplified what it means to Do Game Day Right," said William Cho, president and CEO of LG Electronics USA. "Silver Creek Elementary School is more than deserving of this grant. With LG, it's all possible, and we're pleased to be able to help students become more active for years to come."
Project Fit America (PFA) is a national non-profit public charity dedicated to getting kids fit.
In the picture above: Dave VanderWaal, LG Electronics USA, congratulates Trey Shearer of Silver Creek Elementary School for winning the LG Coaches Cook-Off on Saturday, April 5.