Marissa Raisor Crowned Miss Hooters International
Hooters of America, LLC, has announced Kentucky-native Marissa Raisor as Miss Hooters International 2013.
Raisor was crowned during the 30th Anniversary Hooters International Swimsuit Pageant held in Las Vegas. The full pageant with behind the scenes bonus footage and exclusive contestant interviews will air on Wednesday, July 17 at 9 p.m. ET/6 p.m. PT on FOX-Speed TV.
A 20-year-old Shelbyville, Ky., native and Northern Kentucky University marketing major, Raisor has worked at the Hooters of Newport, Ky., for two years.
[
Also Read
:
Sports Illustrated Swimsuit Models on Digital Platforms
]
This is her second time participating in the Hooters International Swimsuit Pageant, but she is no stranger to this type of competition. Raisor placed first runner up in the Miss Kentucky USA Pageant earlier this year.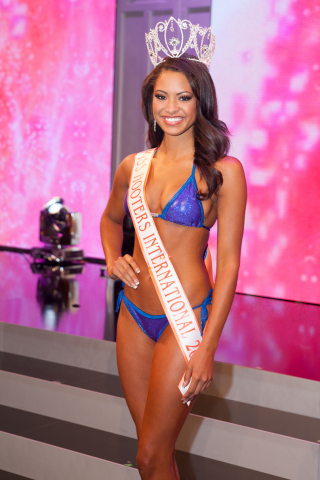 "Becoming Miss Hooters International is so surreal. It was such a tough competition with beautiful, intelligent and charismatic girls from around the world, I never expected this to happen but it's starting to sink in," said Raisor.
"I loved being behind the scenes as a contestant to see everything come together for the pageant. As a marketing major, I'm especially looking forward to representing Hooters for the next year and serving as a brand ambassador."
As Miss Hooters International, Raisor won $30,000 cash and will serve as a spokesperson for Hooters. She will be featured in Hooters Magazine and Hooters Calendar, host events and have the chance to appear in national television commercials and Hooters marketing initiatives.
The pageant contestants were selected from more than 18,000 Hooters Girls who presently work in one of the more than 400 Hooters locations worldwide.
They each competed in local and regional swimsuit contests along "The Road to Vegas" for one of the 60 coveted spots in the 30th Anniversary Hooters International Swimsuit Pageant. The announcement was made Wednesday, July 3.